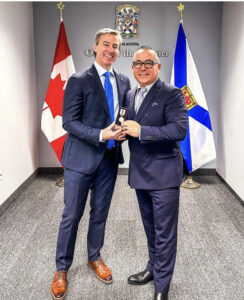 Bishop's Landing and Southwest Properties would like to give its heartfelt congratulations to Hakan Uluer of the Bertossi Restaurant Group for his recent conferment of the prestigious Queen Elizabeth II's Platinum Jubilee medal, as recognition for his contributions to the province of Nova Scotia. "The Platinum Jubilee Award is given to individuals of Nova Scotia who have devoted their lives to making the province a better place, through their significant contributions to the community."
Hakan is the Owner and Operator of the Bertossi group, which is the holding company of three of Bishop's Landing's popular restaurants, namely, The Bicycle Thief, Ristorante A Mano, and Pane e Circo, as well as an upcoming fresh concept which will open at the CUNARD development in 2024.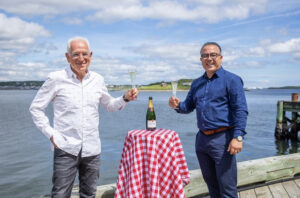 Hakan with Southwest Properties' Executive Chairman Jim Spatz at the CUNARD development
Through his steadfast dedication in providing the Nova Scotians with quality dining experiences through his award-winning restaurants, this is truly a well-deserved recognition, and one that we can all be proud of.