Brand new to Bishop's Landing is Moon Moon Cosmetics, a cosmetic store offering a wide variety of exclusive beauty products from Korea, Japan, and Taiwan. This is Moon Moon Cosmetics' first retail location, making them a one-of-a-kind addition to our community of shops and restaurants. The specialty skincare products, cosmetics, and tools from popular beauty brands appeal to both local and international beauty lovers.
Moon Moon Cosmetics carries an extensive selection of beauty tools and products–stop by the store to discover the full collection for yourself. Here are a few of the most popular products that you will find:
BB Cushions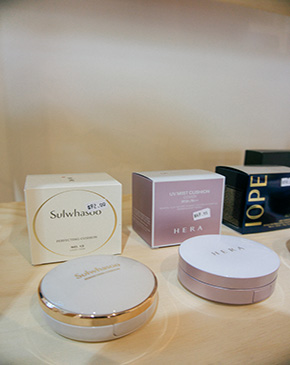 The BB cushion is a must-have foundation compact. Essentially an absorbent sponge soaked in BB cream (beauty balm), the BB cushions offer a flawless and full coverage finish. Moon Moon carries an array of BB cushions from brands such as Sulwhasoo and Hera.
Sheet Masks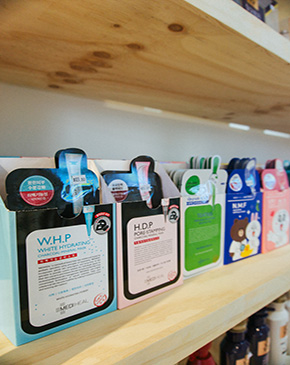 The ultimate relaxation and healing tool! Sheet masks are face-shaped pieces of thin fabric soaked in a solution that will brighten, moisturize, or exfoliate the skin depending on your individual needs. Mediheal and Tony Moly are some of the most popular masks at the store, leaving you with a flawless and glowing complexion.
Facial Serums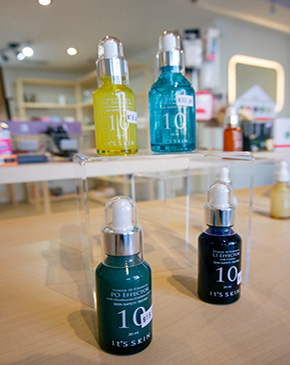 Facial serums are excellent products for restoring and maintaining clear skin. Moon Moon Cosmetics carries the full line of Power 10 Formula serums from the brand Its Skin. Whether your skin is dry, oily, or blemished, each serum has different benefits, making it perfect for targeting specific skincare concerns.
Visit Moon Moon Cosmetics in Bishop's Landing to find your new favourite beauty product. And, be sure to "like" them on Facebook to stay up to date on new products and promotions!