October is here, and that means we get lots of treats! A decadent array of pumpkin offerings and flavors to comfort our palate. For our closets and homes, we have a deluge of style pieces that mix in comfort and warmth.
So thought we would share some of our picks for this autumn season from our Bishop's Landing retailers:
(CLICK IMAGE TO ENLARGE)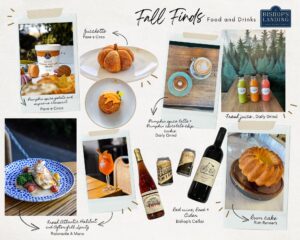 Food and drinks:
Pane E Circo : Zuchette, Pumpking Spice Latte Gelato, Pumpking Spice Supreme Croissant
Ristorante A Mano : New Atlantic Halibut, Aperol Spritz
Bishop's Cellar : Chateau Trinquevedel Tavel Rose, Goodspeed Arbeit Heferweizen beer, and Sepp Moser Classic Zeigelt
The Daily Grind : Fresh bottled juice, Pumpking Spice latte and Pumpkin spice cookie
and Rum Runner's Cafe : Classic Rum Cake
(CLICK IMAGE TO ENLARGE)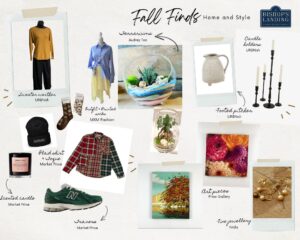 Home and Fashion:
URBNish : Cozy knit Sweater, home finds: Rustic candleholders and stoneware footed pitcher
Market Price : Taikan Patchwork shirt, Market Price toque, Boy Smells Cedar Stack Candle, New Balance – 1906R "Nightwatch Green"
MXM Fashion Studio : MXM Pin stripe Dress shirt, flowy yellow skirt, Marimekko Socks
Frida : South Sea pearls accented by brilliant-cut diamonds in 18kt yellow gold
The Prow Gallery: Marilyn McAvoy, Chrysanthemums (Oil on canvas, 36″ x 36″), Jamie MacDonald, Autumn at Fall River (Acrylic on canvas, 36″ x 24″)
and Audrey Too: Terrarium collection (learn to make your own at Audrey's Terrarrium class held on Thursday evenings at 7pm and some Sundays ay 10am. Inquire at 902-4442333)
See you soon at Bishop's Landing!