Summer is here and Bishop's Landing is going to be ALL ABLOOM with fresh offerings, a bright atmosphere, and warm connections as we experience much anticipated sunny days in our favourite waterfront destination.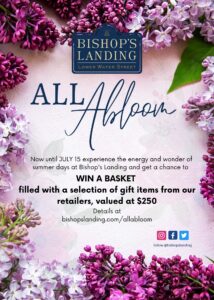 Starting June 16 until July 15, our retailers are going all out to make the summer vibe felt, through floral- themed displays and promotions for the next month. Here are just some exciting things to watch out for:
Special blossoming floral displays at
The Prow Gallery
Audrey Too
Frida Fine Jewellery
Beautiful flower -themed product showcase
URBNish
Rum Runners
Sugah!
MXM Fashion Studio
20% discount on unique floral- designed custom cake orders
Piece of Cake

Summer Refreshers that have fresh herbs and floral notes at
Pane e Circo– Mint & Basil, as well as a Peach Hibiscus green tea
Ristorante A Mano– Hugo Spritz that has Elderflower Liqueur
Bicycle Thief – the Public Gardens cocktail that features edible flowers
Bishop's Cellar
Special floral themed displays and tasting event of rose wines and wines with blooms
—
We invite you to come visit Bishop's Landing these coming weeks, and relish the energy of sunny days. To spruce up our invitation, we're giving away a basket filled with a selection gift items from our Bishop's Landing retailers valued at $250.
There are 3 fun ways to join:
1) Sign up for our Bishop's Landing mailing list and get entered into our special draw
2) Download the All Abloom game card here (save the game graphic below). Fill in the blanks, post your answers on Instagram or Facebook, and tag us @bishopslanding
3) Comment on any of the ALL ABLOOM posts on Bishop's Landing's Instagram or Facebook.
Do all 3 on or before July 16, and get 3 entries to the draw!
The raffle will be done before July 21 and winner will be contacted via email or social media direct message. (Employees of Southwest Properties are not eligible to win.)
SEE YOU AT BISHOP'S LANDING SOON!