Thinking of a unique gift for your loved one or for yourself this Valentine's? An alternative to material gifts is a thoughtful present that could enhance one's appearance and overall wellbeing.
Bishop's Landing Dental Centre, led by Dr. Rammi Hassan, is offering a special promo for the month of February. Get $50 off ZOOM Teeth Whitening procedures within February 1-28.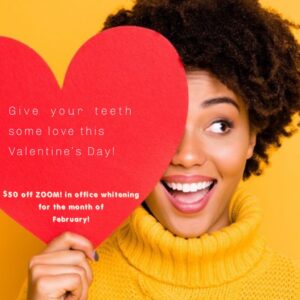 Whiter teeth means a brighter smile, and has benefits both inside and out:
Having a brighter smile has been shown to have positive benefits to a person's mental health and overall confidence
Brighter smiles gives the person a younger and healthier appearance
Less stains generally means less cases of plaque accumulation and cavities which results in healthier and stronger teeth.
Teeth whitening procedures are non-invasive, quick, and relatively painless. Contact Bishop's Landing Dental Centre to set an appointment.
Bishop's Landing Dental Centre
Located at Unit 170 – 1477 Lower Water Street, Halifax
Phone number (902) 423-4193
Email address Reception@bishopslandingdental.com
Clinic hours:
Monday: 8 am-5 pm
Tuesday: 8 am – 7 pm
Wednesday: 8 am – 5 pm
Thursday: 8 am – 7 pm
Friday: Closed
Saturday & Sunday: Closed
Website: https://bishopslandingdental.com/