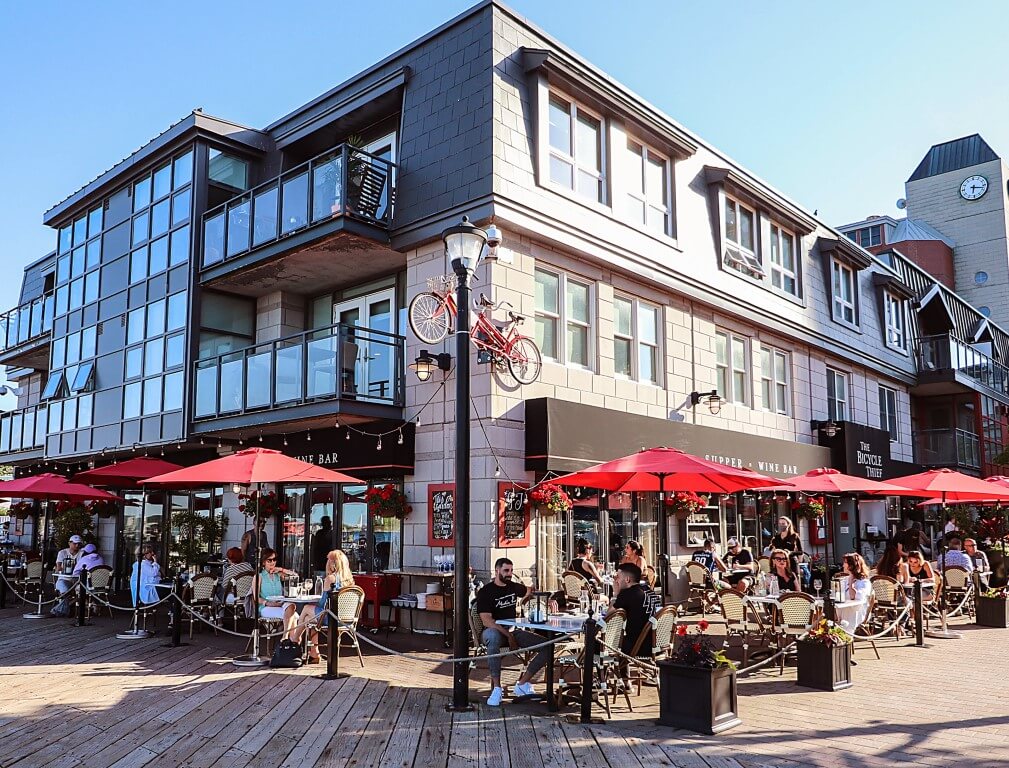 August on the Halifax waterfront is a wonderful way to spend the remaining days of summer taking in the local cuisine, boutique shopping, and warm weather. This month indulge yourself at Bishops Landing and share the experience with family and friends.
Indulge in the Best Wines Halifax Offers
Bishop's Cellar has a large collection of wines to explore particularly if you are looking for a specialty wine. They are a collection of decadent ports, perfect for a 'wine and cheese night,' with friends or for an indulgent after-dinner drink. If you are looking to unwind and indulge in a bottle of wine, Bishop's Cellar has over 800 wines from around the globe, making it easy to choose the best bottles with a large selection of white, red, rose, and bubbly.
If wine is not your drink of choice, pick up a premium spirit. They carry whiskey, rum, tequila, vodka, and more. 
Enjoy Sunshine & Salty Air During Dinner
Head downtown to soak up the sunshine and salty air on the Halifax waterfront during dinner. Treat yourself to a reservation at one of the most popular restaurants in Halifax, the Bicycle Thief. Enjoy mouthwatering bites of Italian food and wine. 
And, if you need the perfect location for after-dinner drinks, Sea Smoke is the place to be. Only steps away from the Bicycle Thief, you can be sitting on a patio sipping cocktails watching boats sail by in no time. 
Adorn Yourself with Custom Jewellery Designs
Elevate your personal style with jewellery pieces from Frida. The luxury boutique offers statement gold, diamond, and gemstone designs. Make a statement with a bold cuff or dazzle with a pair of diamond earrings. 
Frida believes that that jewelry should inspire you to be 'Your own Brand,' and we agree! And, if you can't find what you are looking for, Frida is well known for creating custom pieces to suit your style perfectly. 
Indulge Your Sweet Tooth Cravings
It's warm in the summer, and what better way to cool down than ice cream from Sugah?! If ice cream is a no-go, there's plenty more to enjoy. Indulge in an East-Coast classic sachet of saltwater taffy or try jalapeno peanut brittle to tantalize your taste buds. 
Accessorize with Plant-iful Home Decor
Houseplant lovers are in for a treat at Audrey Too. Step into the store and you'll be amazed at the different types of plants. From small air plants that you can hang in your window to happy spider plants to large monstera deliciosa plants. Whichever plant you choose will liven up any space. Audrey Too has plant accessories as well, so if you are looking to elevate your plant game, pick up a new pot, hanging planter, or watering can. 
Feel and Look Fabulous with a Fresh Blow Out
There's nothing that gives you more confidence than feeling comfortable in your skin. Freshen up your locks with a trip to the Hair Factory and treat yourself to a blowout. 
---
Bishop's Landing's restaurants, retailers, and professional services are following Nova Scotia's health and safety protocols to keep both employees and customers safe. Be sure to wear a mask when visiting the restaurants and retailers at Bishop's Landing this summer 2021.