Haligonians love the summer but we have to admit—it can get pretty hot and humid at times! Heat waves in July are no joke, so we have listed some ideas on how to cool off in downtown Halifax on a hot day. Now you can do the things you love without being scorched by the sun all day.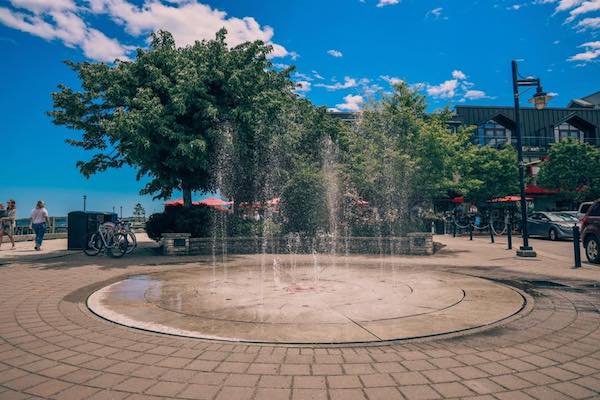 Cool Down with an Ice Cream
Discover new ice cream flavours and find ones you love at Sugah at Bishop's Landing in downtown Halifax. With lots of locally-made treats in-store, there are plenty of mix-ins you can add to your hand-paddled ice cream. Upgrade to a fancy waffle cone with sprinkles or simplify things and go with a soft serve. Either way, as you walk along the waterfront licking your ice cream and enjoying the ocean breeze, you'll be cooled off in no time. 
Get Close to the Splash Fountain
Have you ever walked through Bishop's Landing and got surprised by the splash fountain? If you're trying to cool off, embrace it! Let the mist reach you or take a quick walk through the fountain for some relief from the heat.  
Chill On a Patio with Umbrellas & Shade
The best patios are the ones where you can choose a seat based on whether you want more sun or more shade. The restaurants at Bishop's Landing not only have extensive, beautifully decorated patios, they also have plenty of choice when it comes to umbrellas and shaded seating. The Bicycle Thief, Sea Smoke, Daily Grind, and Ristorante a Mano all have great outdoor seating, food, and cold drinks!
Shop in Air Conditioned Boutiques
Get a few new things and cool off in downtown Halifax when you shop the air-conditioned retail boutiques at Bishop's Landing. Whether it's new shoes from Ivory Sheep, a new bag from MXM Fashion Studio, new jewellery from Frida, or a plant from Audrey Too, you'll enjoy the break from the humidity outside. 
Pick up Some Cold Beer and Wine 
Planning a picnic, a pool day, or a family BBQ? Stop by Bishop's Cellar to get the coldest drinks for a hot summer day. The store has many refrigerators filled with chilled beer, cider, and wine that are ready when you are!
Be sure to wear a mask when visiting the restaurants and retailers at Bishop's Landing this summer 2021.