The holiday season is approaching, and now more than ever, it's important to spread the joy, cheer, and kindness that this season celebrates. There are plenty of ways to safely enjoy the festive season on the Halifax waterfront.
At Bishop's Landing, we're celebrating Good Tidings! From November 25 to December 24, discover special offers at our shops, service providers, and restaurants. Here's how we're spreading Good Tidings this year: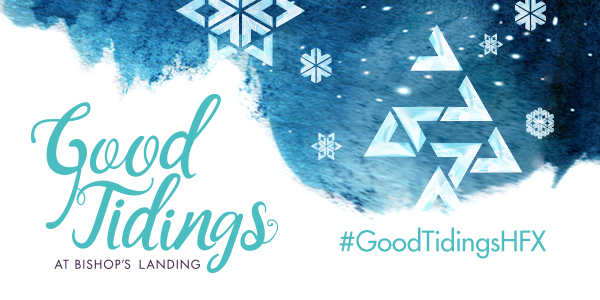 Shop Local and Save
From November 25 to December 24, shops and restaurants are offering specials and flash sales. Stay tuned to our Facebook, Twitter, and Instagram for more Good Tidings announcements.
Although there will not be a public tree lighting event this year due to health and safety precautions around the pandemic, we will have a beautifully lit tree that all are welcome to visit as they do their holiday shopping and dining on the Halifax waterfront.
You Could Win a Holiday Grand Prize!
Enter for your chance to win a $250 gift card that can be used at Southwest Properties shops and retailers when you enter at bishopslanding.com/GoodTidings. Use it to buy your favourite goodies from local retailers at Bishop's Landing including Bishop's Cellar, Sugah, and more.
Share your experiences enjoying the festive decorations and lights along the Bishop's Landing waterfront on social media using the hashtag #GoodTidingsHFX!
Attend the Evergreen Festival
Bishop's Landing will be lit up and festively decorated as part of the premier Evergreen festival, hosted by Discover Halifax. Take in live performances, enjoy artisan foods, and buy locally-made crafts along the waterfront.