The New Year is here and healthy eating in Halifax for 2020 is among the top resolutions made by Haligonians. When you think of dining at Bishop's Landing, thoughts are often related to hearty Italian pasta dishes or burgers on a patio. Although we are extremely proud of all the menus offered at our restaurants, we want you to know that there are equally delicious healthy options at Bishop's Landing as well, including:
Healthy AND Delicious Salads

Fresh, Local Seafood

Smoothies—in a Bowl

Winter Vegetables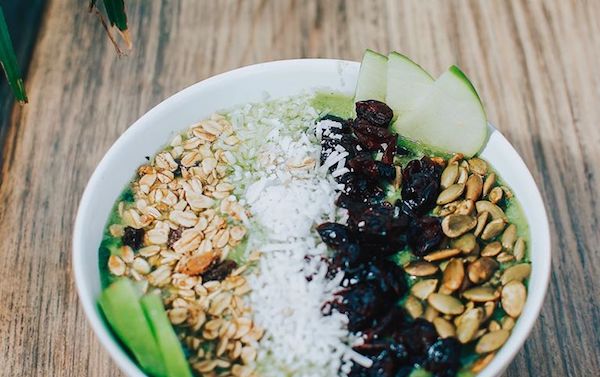 Healthy AND Delicious Salads
If you have been to Ristorante a Mano, then you have likely enjoyed their handmade pasta or pizza. What you may not know is that they also have amazing salads. We don't just mean a standard iceberg lettuce and ranch dressing salad—we mean four fresh, flavour-packed salads that you will crave once you've had them. With Italian greens or arugula, they have unique ingredients such as crisp pancetta, shaved fennel, roasted beets, and crushed hazelnuts. When you add a protein such as chicken or shrimp, you will be satisfied and eating healthy!
Fresh, Local Seafood
A source of protein, Omega 3 fatty acids, and vitamin D, fish is a great option for those wanting to actually enjoy healthy eating in Halifax for 2020. We are lucky to live near the ocean with access to fresh, local seafood. 
The chefs at Sea Smoke take advantage of this, using locally sourced products when possible. This includes oysters from Nova Scotia and PEI. Taste the quality of the fresh sashimi at the sushi bar, along with creative and flavourful maki. 
At Little Oak, the menu changes often but you will always find at least one fresh seafood item such as Albacore tuna tataki or Arctic char. The dishes are always so packed with incredible, memorable flavours that you'd never know you are eating healthy! 
Healthy Smoothies—In a Bowl
The Daily Grind at Bishop's Landing has great coffee, treats, and all-around vibes. They also have smoothies that are filled with fruits, vegetables, and everything you need to enjoy healthy eating in Halifax this year. Choosing a daily routine that starts with a healthy choice can set the tone for the rest of your day. If you're not a smoothie drinker, try one of their hearty smoothie bowls. 'The Hulk' has pumpkin seeds, oats, dried fruit, coconut, and green apple on top of the green smoothie base. Stop by on your way to work to find out which smoothie bowl will be your new favourite way to start the day. 
Eat Your Winter Vegetables
If anyone knows how to turn winter vegetables into something amazing, it's The Bicycle Thief. You may be surprised when you find yourself asking for more green beans after you've enjoyed them with the pistachio honey-crusted Atlantic salmon. You might even crave more spinach after you've tasted it with the halibut, and you'll have no problem eating all your winter vegetables when you have them with the lamb chops. The yellowfin tuna tartare with avocado and sesame cucumber spaghetti is a creative, healthy, and tasty way to eat more fresh vegetables in 2020.
Make a Resolution to Eat Healthy in Halifax Today
They say living healthy is all about balance, so enjoy that pasta dish and burger, but know that you can also enjoy salads, smoothie bowls, and fresh fish galore on the Halifax waterfront at Bishop's Landing.