The summer is winding down, but there is still plenty of fun to be had and sun to be enjoyed. We have compiled a list of things to do to help you discover how to make the most out of the last days of summer in Halifax.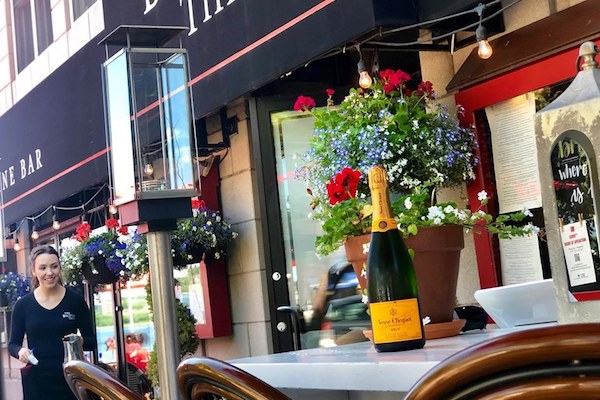 Indulge at the Champagne Bar

Sip on Free Tastings at Bishop's Cellar

Attend a Daily Grind Event

Try on Locally Made Fashions

Enjoy Ice Cream on the Patio
Indulge at the Bicycle Thief's Champagne Bar
One of the most unique patios on the Halifax waterfront is the Champagne bar at The Bicycle Thief. The Champagne bar is a small section of their patio which has a few coveted bar stools with luxurious blankets, a dedicated bartender, special drinks and of course, Champagne. This section is only open in the summer months so be sure to experience it before the season is over. 
Sip on Free Tastings at Bishop's Cellar This Summer
Bishop's Cellar is known for their meticulously curated selection of wine, beer, and spirits on the Halifax waterfront. Did you also know that they host events in the store? Their themed, ticketed events are quite popular and include wine tastings and finger foods. They also partner with local breweries and wineries to offer free tastings, often on Fridays and Saturdays. Stay up to date by signing up for their newsletter or regularly visiting their events page. 
Attend a Summer Daily Grind Event
Serving up local coffee, after work beverages, tasty lunch, brunch, and on-the-go breakfast options, the Daily Grind Café and Bar has made its mark on the Halifax waterfront this summer. They have also been busy hosting events such as their white attire party and speed dating at both the Bishop's Landing and the Birmingham Street locations. Get in on some of the action before the summer is over—follow their Facebook page for news and upcoming events. 
Try On Locally Made Fashions
A supporter of local designers, MXM Fashion Studio carries a variety of lines that include local fashion designers and handmade clothing. Find out which items suit your style by popping into the boutique today! 
Conceptualizing and creating beautiful handmade and custom-designed jewellery for discerning clients is one of the many ways in which FRIDA celebrates hand-craftsmanship and technical expertise. Visit the FRIDA boutique to discover stunning creations, using the finest quality of precious metals, exquisite ethically sourced gemstones, diamonds, and pearls.
Enjoy Ice Cream on the Patio
A summer staple is enjoying a cone of your favourite flavour of ice cream. Try the local flavours with a variety of mix-ins at Sugah! Confectionary and Ice Cream Emporium, where they hand paddle the ice cream to ensure you have the best tasting scoops! Have yours in a waffle cone on their patio as you watch the summer sun—but hurry, because it's setting just a little earlier each day now.