To do summer right in Halifax, you must take a leisurely walk along the waterfront and enjoy a meal and drinks outside on the patio. Halifax has so many great patios that sometimes it can be a tough choice deciding which one to go to—especially when there is a looming question of whether you will find an available seat. 
Luckily, some of the city's best patios (with the best views) are in one spot—Bishop's Landing! Whether you're with a larger group or looking for an intimate spot to enjoy a date, a seat on the perfect patio is waiting for you.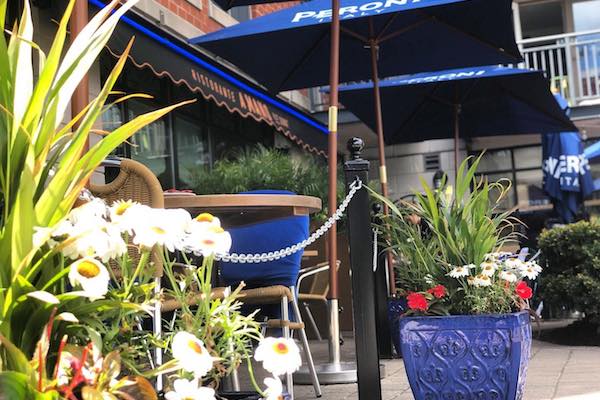 Enjoy Date Night on the Patio
Recently named a 'worthy wine destination' in the summer 2019 issue of Elle Canada magazine, Little Oak has a charming, intimate patio that is perfect for date night. Their seasonal, local menu items and unique sommelier-curated wine selection makes it an ideal location for sharing under the lights and greenery of the patio. 
A larger patio that is great for romantic dates or get-togethers with friends is at Ristorante a Mano. Wrapping around the restaurant, the outdoor seating area is vibrant with colourful flowers and bright blue umbrellas. Share some laughs and conversation over a pizza and a bottle of Italian wine. 
Make A Stop Along Your Halifax Waterfront Walk
Whether you're enjoying a walk along the Halifax waterfront or just exploring during a local summer festival like Buskers, you'll want to make a stopover at Bishop's Landing. If you're craving a sweet treat like a hand paddled ice cream or handmade chocolates with local ingredients like sea salt, Sugah! Confectionary and Ice Cream Emporium is the place to stop. Enjoy your treats on the cute patio in front of the shop, enjoying the views of the ocean and McNab's Island. 
The newest patio on the block is that of The Daily Grind Café and Bar, open from 7am – 11pm every day. The outdoor wooden seating area has a welcoming, relaxed vibe, where you can enjoy a simple coffee with your book, enjoy a quick lunch, or drinks with friends in the evening. 
Warm Up On A Heated Patio (For Unpredictable Halifax Weather!)
There are many things that make the Sea Smoke patio endearing—one being their fire pit tables and blankets that allow you to be outside even when there is a cool breeze coming off the water. Speaking of water, the views are spectacular from their large, sprawling patio. Sea Smoke's Happy Maki Hour takes place from 3:30pm – 5:30pm daily, where you can enjoy 15% off classic sushi rolls, select drinks for $6, and six oysters for $16 or twelve for $30. 
On the waterfront showcasing its sophisticated yet fun atmosphere is The Bicycle Thief's patio. A mix of high top tables, tables for two, and even a champagne bar, this luxurious patio is where everyone wants to be when they walk by. Open from lunch until late, you can wrap yourself in a blanket, sit by a patio heater and sip cocktails and eat oysters under the stars—even when it gets chilly. 
Visiting a patio at Bishop's Landing this summer? Tag us on Facebook and Twitter!