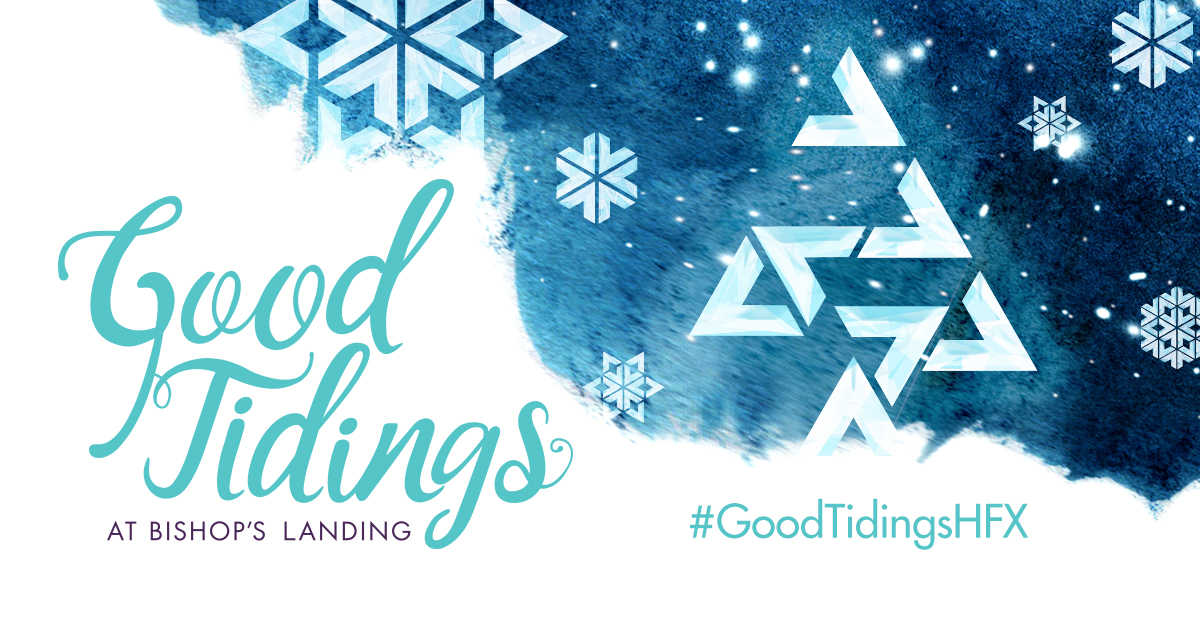 The colourful autumn leaves have fallen and preparations for the holidays are well underway. Bishop's Landing is a popular destination for shopping and dining year round, and the festive season is certainly no exception. In fact, Bishop's Landing has some exciting events planned, sure to make your holidays in Halifax filled with Good Tidings.
Win an Incredible Prize Basket
From November 22 – December 8, shoppers will have the opportunity to enter a contest for a chance to win an incredible prize basket, containing items from the shops and restaurants at Bishop's Landing valued at $500! Participating retailers will have ballots on hand during the contest period.
The Holiday prize package includes gift cards from Bishop's Cellar, Alexa Pope, Sugah!, Sea Smoke, a one-night stay at any Premiere Suite property in Halifax, St. John's, and Moncton, and more.
Enjoy Special Holiday Luncheon Menus
Whether you are out and about or boutique shopping at Bishop's Landing, make a plan to stay have a leisurely lunch at one of the restaurants. Enjoy all day happy hour at Sea Smoke, and lunch specials at Smiling Goat December 6 – 8. You will be be glad you took a break to enjoy some of the best food and drinks in the city.
Discover Good Tidings at Boutique Shops
Shops such as Alexa Pope, String & Theory, Frida, Rum Runners Rum Cake Factory, MXM Fashion Studio, and Sugah! will be spreading their Good Tidings by offering specials, discounts, and other offers throughout the holiday season. Discover a new shop for local fashion, or visit an old favourite to pick up a gift card to complete some local shopping on your gift list. Some of the great sales include: 
20% off bulk candy at Sugah!
TAX FREE clothing at Rum Runners Rum Cake Factory
20% off all original brands at MXM Fashion Studio
50% off merch and two for $5 organic soaps at String & Theory
FREE parking at Bishop's Landing Saturday, December 8
Juice Press is offering $1 off seasonal blends Berry Me and Tart Queen for Dec 7-8
Participate in the Tree Lighting and Carol Sing
An impressive tree will be front and centre at Bishop's Landing throughout the holidays. Join us in merriment as we light the tree at Bishop's Landing on November 23 at 6:00pm. The holiday spirit will be in full swing as the East Coast Carollers sing and the community comes together.
Warm Up With Seasonal Samples
Through November 22 – 24 and December 6 – 8, participating stores will be offering samples while you shop! Try your cider hot for a winter warm up, or taste something new on ice. Bishop's Cellar will be offering wine tastings from 4-6pm on both weekends and Smiling Goat will be offering coffee samples.  Frida is hosting "Luxury on the Rocks", serving scotch & champagne, and offering items TAX FREE Dec 6-8. 
Stay tuned to Bishop's Landing's social feeds on Facebook, Twitter, and Instagram for updates on when and where you can get your #GoodTidingsHFX!