This year, the weather in Halifax proved to be one of the city's hottest summers on record! Although we cherish our hot summer days, many of us are ready for the cooler weather in fall. Before we starting drinking pumpkin spice lattes and wearing knitted sweaters, there are many things on our summer bucket list that we still want to experience. Here are a few things to do before the leaves change colour:

Stroll the Boardwalk
The classic Halifax activity of taking a stroll along the waterfront is a must on anyone's summer bucket list. Grab an ice cream from Sugah! Confectionary and walk the 4km Halifax boardwalk—one of the world's longest urban boardwalks.
Kayak the Halifax Harbour
Located at the Sands at Salter next to Bishop's Landing, Kayak Halifax offers guided tours of the Halifax Harbour. Until October 18th, take a 2-hour excursion around the harbour to see Halifax in a way you've never seen it before.
Bike to Point Pleasant Park for a Picnic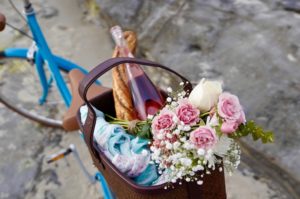 Rent your bicycles at I Heart Bikes, also located at the Sands at Salter. Pack a picnic with take-out food from Ristorante a Mano and head to Point Pleasant Park to enjoy your lunch and the ocean views with your date. Make it a tandem bike rental for an extra special ride!
Dine Outside on the Patio
The large patio at Sea Smoke is the perfect spot to enjoy great food—there is no bad seat at the newest restaurant on the Halifax boardwalk. Order some fresh oysters that are delivered daily from local purveyors and take in views of the water, boats, and people walking along the boardwalk.
If you're looking to glam up your patio experience, pull up a stool to the champagne bar at The Bicycle Thief. You'll be served bubbly by the glass surrounded by magnums of champagne, cozy blankets, and views of the water.
Host Friends for a BBQ
Now that you've checked off many of the items from your summer bucket list, you are ready to host the end-of-summer BBQ get-together with your friends. You will need some beverages, so stop into Bishop's Cellar and pick up some wine and beer. The knowledgeable staff will be able to make recommendations for crowd-pleasers that pair with what you're serving.
Take advantage of the end-of-summer sales and pick up a new outfit from Alexa Pope to wear when hosting your friends for the get-together.
Be sure to post your summer bucket list items on social media as you complete them! When you're visiting one of the retailers at Bishop's Landing, tag us in your posts on Facebook, Twitter, and Instagram.