A classic scenario: there's less than a week left until Christmas, and you've realized you're not as close to finishing your shopping as you thought. You bundle up and drive downtown—with no idea what you're going to get your daughter's new boyfriend—and debate just going through a drive-thru, grabbing a burger and fries gift card and calling it a day. You go home, feeling somewhat defeated, and rummage through your closet to see if you have anything hidden away that you've forgotten about. You don't.
Not that we've been in a similar situation or anything like that.
The holidays aren't supposed to be stressful, and neither is gift giving. If you're determined to get everyone the perfect present this year—but you've left it a little late and are feeling the pinch—don't worry, we've got you covered. Bishop's Landing is home to some of the most unique local vendors Halifax has to offer, and all of them have incredible gift ideas for everyone on your list.
Keep reading and discover how easy it is to shop local this year, even at the very last minute.
Pick Out the Perfect Gift for Even the Most Difficult to Buy For Person on Your List
At this point, you likely already have gifts (or at least, gift ideas) for your best friend, partner, or close family members. They're not the ones that keep you up at night.
It's those people you don't know all that well—and often forget you need to buy for—that make sure you're still shopping up to the very last second. This year, Bishop's Cellar is making shopping for those puzzling people on your list much easier with the 2017 Gift Giving Guide.

Covering everyone from your workplace Secret Santa (who you've never exchanged more than ten words with) to your hairstylist who came to the rescue when you box dyed your hair and needed an emergency appointment, the 2017 Gift Giving Guide is a life-saver. What makes it even better is the fact that you can order recommended products right within the guide—add 'em to your cart, proceed to the checkout, and have your gifts delivered right to your door (or pick them up at the store if you're in a real rush). Start (and finish) your last-minute shopping with the Bishop's Cellar 2017 Gift Giving Guide now!
Gifts That Are Already Packaged and Tied With a Bow
As if the last minute shopping isn't stressful enough, how about wrapping all of your eleventh-hour purchases so they look like you picked them out and prepared them weeks ago? Take advantage of these perfect gifts that are already beautifully packaged—just add a name tag!
Haspaka's gift crates

— For the foodie who loves to try new local goods, Haskapa'sgift crates feature their most popular products and are complete with shredded filler and a twine bow. There are crates to suit any price range, so check out their selection in-store or 

order online now

!

The Uncommon Group's local gift baskets

— Chocolate, coffee, cake, syrups, jams, and more fill The Uncommon Group's Nova Scotia-centric gift baskets.

Check out their assortment of gifts

, and if you don't see exactly what you need, contact them—theycan customize your basket if you'd like specific flavours! Visit Rum Runners and Sugah! at Bishop's Landing to get inspired.
Treat Them to a Beautiful Night Out at One of Halifax's Top Restaurants
Who doesn't want to be treated to a night of fabulous food and delicious drinks?
The Halifax waterfront is home to some of the city's top-rated restaurants and bars. If you want to give the gift of an unforgettable dining experience, pick up a gift card from one of these spots:
The Bertossi Group

— Everyone loves pizza and pasta, and a

Bertossi Group gift card

covers the top 3 Italian restaurants in the city,

as voted by Haligonians

. The Bicycle Thief and Ristorante aMano are both located on the Halifax waterfront and serve up top-notch authentic Italian dishes with first-class service to match. Purchase gift cards

here

.

Little Oak

— This small but mighty restaurant and bar has had a big year—first, Little Oak was Atlantic Canada's only restaurant who made the shortlist for

Air Canada's Best New Restaurants

, then, their manager and sommelier, Nicole Raufeisen won

Taste of Nova Scotia's Server of the Year Award

. For the foodie or wine and cocktail aficionado who loves to indulge in the best of the best, a night out at Little Oak is the ideal gift. Email

hello@littleoakbar.ca

to get your gift card.

Hamachi Steakhouse Bar and Grill

— Speciality sushi rolls, fresh cut steaks, teppanyaki, and more make up Hamachi's Japanese fine dining menu. To get a gift card, stop by their Bishop's Landing location.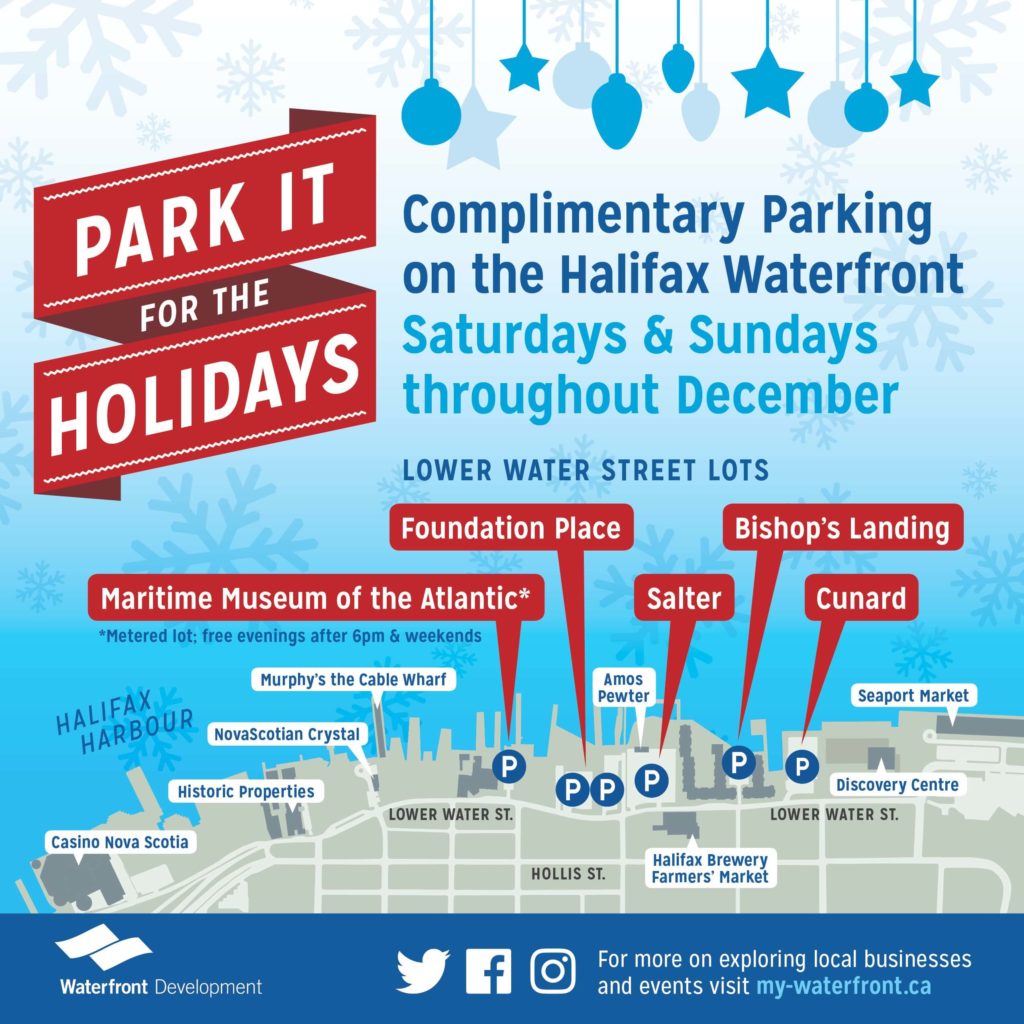 BONUS TIP: Free Parking Saturdays and Sundays Until December 31st Along the Halifax Waterfront
Worried about parking downtown when you're picking up your gifts? Take advantage of FREE PARKING in the Lower Water Street Lots, including the one at Bishop's Landing! Snag your spot early and make a day of your last minute shopping trip with lunch and a stroll along the waterfront to admire the lights. Read more details here about free parking through December from Waterfront Development.
There you have it, your ultimate guide to stress-free last minute gift giving. Follow us on Twitter, Facebook, and Instagram to stay up-to-date with everything going on at Bishop's Landing, and we'll see you this weekend for some last minute (or just in the nick of time?) holiday shopping!