Nova Scotia is known for its friendly people and rich culture, and those who live in Halifax are extremely passionate about local food, art, and entertainment. The Halifax Waterfront is home to many small, locally-owned businesses and is a venue for some of the biggest and best locally-run events in Halifax. Are you looking to take advantage of the best of Nova Scotia this fall? Look no further than these exciting events and activities happening on the Halifax Waterfront.
Taste the Best Oysters on the East Coast at Halifax Oyster Festival
The 3rd annual Halifax Oyster Festival takes place on September 29th & 30th, and this year's festival is shaping up to be better than ever. With the purchase of a ticket, you're invited to taste oysters from 16 different farms from across the Maritimes. The festival takes place under a big white tent on the Halifax Waterfront and the atmosphere is "upbeat, loud and jovial." Enjoy the best of local oysters while watching seasoned shuckers compete in the Nova Scotia Oyster Shucking competition and experience the Halifax Caesar Competition, where the city's top bartenders compete to create the most delicious Caesar cocktail. Click here for more details and to buy your tickets now!
Focus on Local with I Love Local HFX's City Harvest 2017
On October 21st, businesses across Halifax will participate in City Harvest 2017, a celebration of locally owned businesses and how they strengthen our community. The event encourages businesses across the city to highlight their offerings by featuring special deals. Our very own Bishop's Cellar, Rum Runners, and Sugah! are members of I Love Local HFX, so be sure to follow @ILoveLocalHFX on Twitter to stay up to date with what kinds of treats and treasures you can find at these locations.
Enjoy Local Art and Culture on the Halifax Waterfront
Bishop's Cellar is constantly featuring the best of Nova Scotia beer and wine, and this October, they'll be featuring local art as well. Throughout the month, Bishop's Cellar serves as an impromptu gallery for local artist Harold Klee's exhibit, Delphian Constructs, during Photopolis: The Halifax Festival of Photography. "These abstract images of Halifax landmarks accentuate the feelings of ambiguity many have towards the construction here," Klee says. "Progress is inevitable. Many heritage buildings have been completely erased from the cityscape. But sometimes, new buildings incorporate historical styles or original facades. Look carefully. Like the buildings in my photographs, the past can still be seen." If this exhibit piques your interest, you may also be interested in the accompanying tasting, Construction vs. Preservation: A Wine Tasting That Explores the Traditional & The Modern. The tasting takes place at Bishop's Cellar on October 6th from 5 p.m. to 7 p.m. with tickets priced at $25. Get your tickets today and stop into Bishop's Cellar anytime during the month of October to experience Klee's exhibit.

Looking to take in even more local art? One of Halifax's biggest art festivals, Nocturne, is coming up on October 12th & 14th. The festival features art installations across the entire city with many exhibits on the Halifax Waterfront. Be sure to follow Nocturne on Facebook to stay up-to-date on the latest news.
Experience the Restaurant Putting Nova Scotia on the Map as Canada's Next Top Dining Destination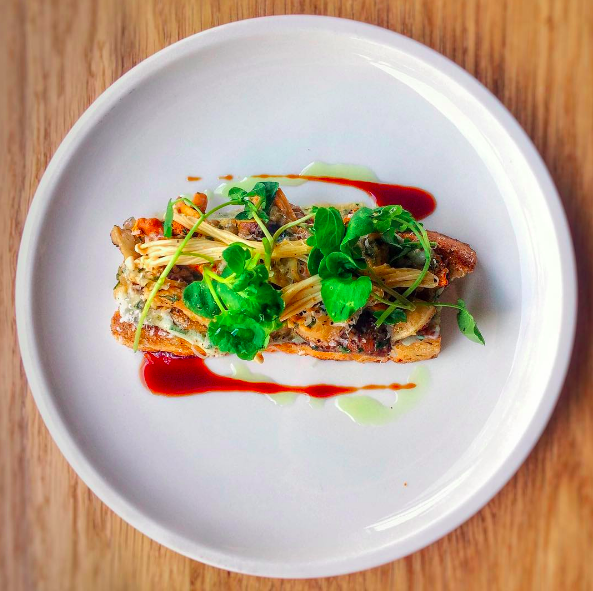 As a driving force in the Halifax food scene, Little Oak has been getting lots of recognition for its rotating menu, innovative cocktails, and refined wine list. If you're looking to top off your night out with a glass of wine, a bite to eat or a local craft beer, Little Oak is the place to go.
Little Oak was recently chosen as one of Air Canada's contenders for Best New Restaurant in the country, with the cuisine type listed as "seasonal". Chef Ludovic Eveno has established relationships with many local farmers and uses their top quality ingredients in his original, artistic dishes. On top of a fantastic dining experience, you'll enjoy their extensive wine list, featuring both local favourites and bottles from across the globe. Visit the Instagram page to inspire your next night out!
As you can see, there are plenty of ways to experience the best of Nova Scotia on the Halifax Waterfront this fall. Interested in finding out more about local food, art, and events? Follow Bishop's Landing on Instagram, Facebook and Twitter to stay up-to-date with everything going on in the city. See you soon!