There's nothing like a Maritime summer, especially on the Halifax waterfront. Tourists come from far and wide to revel in the laid-back atmosphere and salty air the waterfront offers, and as locals, we take advantage of our beautiful province by spending as much time as possible near the water.
At Bishop's Landing, we love being right in the centre of the action. We've created a list of must-do Halifax waterfront events this summer, including festivals, fun dining experiences, and wine tastings. Whether you're ready to plan a full weekend, or you want to put aside a few hours to unwind and enjoy the summer air, be sure to check a few of these off your list over the next month or so.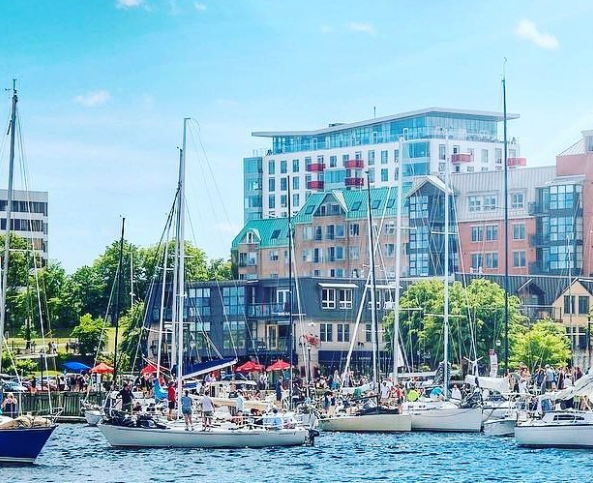 Check Out the Biggest and Best Festivals in the Province
The Halifax Waterfront is hosting some of the province's most exciting summer festivals, including Halifax Jazz Festival, from July 13th to July 17th, and the International Busker Festival from August 2nd to August 7th.
World-renowned musicians, such as Blue Rodeo and Anderson .Paak and The Free Nationals, are playing on the Halifax waterfront as part of the Halifax Jazz Festival, and the International Busker Festival features some of the best entertainers in the country. Each festival runs over the course of the few days, so you can check out the schedules and plan your days around performances you can't miss.
As if the entertainment isn't enough, it's all happening on the waterfront, so you can grab a bite to eat or a drink to top off your day (or full weekend!) and take in the priceless view.
Check Out the Tall Ships
The Tall Ships are a must-see across every town and city in the maritimes, but something about the Tall Ships in Halifax is extra special. Perhaps it's the epic backdrop or the stellar entertainment planned around their arrival—either way, you won't want to miss one of the most exciting Halifax waterfront events this year.
From July 29th to August 1st, visit the waterfront to experience the Tall Ships in all their glory. The waterfront will host the CBC Main Stage this year, with a kickoff concert featuring Natalie MacMaster on the 29th. The waterfront is also the perfect place to check out the fireworks, happening every single night the Tall Ships are here. You can view the full Tall Ships schedule here to plan your waterfront weekend.
Practice Mindfulness & Yoga
We said it once and we'll say it again, summer is a busy time, but don't forget to focus on you! Haskapa offers educational sessions, often intertwining mindfulness and nutrition. On July 15th, you're invited to attend an Introduction to Mindfulness & Mindful Eating. This session is a fantastic opportunity for beginners to learn more about mindfulness techniques, what it means to eat "mindfully", and how it feels to be more present. Reset, refresh, and reenergize so you can enjoy the rest of the summer to the fullest. Sign up for the session here, and check out Haskapa's other upcoming events, including yoga flow classes offered throughout the month.
Enjoy Learning About (and Tasting!) Fine Wine
The more you know about wine, the more you're able to enjoy it. Bishop's Cellar offers fantastic events to get you acquainted with wines of various flavours from all over the world. A glass of wine can be synonymous with relaxation, and during the busy summer months, everyone needs to wine wind down.
This summer, Bishop's Cellar is offering a few wine tastings to introduce wine lovers to new favourites. On July 28th, take in The Wines of Kermit Lynch—a tasting of new wines from one of North America's "forefathers" of wine. On August 4th, you're invited to Wines for the Garden and Grill, a tasting focused on pairing wine with meat and veggie flavours from the grill. Bishop's Cellar tastings always start at 5pm, so sign up and drop in after work to try new wines on the Halifax waterfront.
Take Advantage of Wine Wednesday & New Summer Menus
Bishop's Landing has the best views of the Halifax waterfront, and there's no better place to take it in than a patio. This summer, the restaurants in Bishop's Landing have exciting new summer menu items, wine deals, and even some renovations.
Little Oak is the perfect place to have a mid-week meetup with friends. On Wednesdays, Little Oak offers $20 off $50+ bottles, allowing you to unwind and indulge in fine wine. They've also updated their menu for summer with tasty, fresh items including their new lobster salad, garnished with grilled corn, pickled carrots, and housemade creme fraiche.
The Bicycle Thief also boasts seafood favourites this summer, with lobster rolls and tuna tartar coming out of their kitchen. Their patio overlooks the waterfront, and offers a relaxing atmosphere—it's perfect for unwinding on your own, or taking a break from activities with guests.
What about when it rains? You can still appreciate the waterfront from indoors! Hamachi House has just renovated their indoor dining area. With modern appeal and comfortable seating, you can still spend time relaxing on the waterfront if the weather doesn't cooperate.
Enjoy Summer and Halifax Waterfront Events at Bishop's Landing
These are just a few suggestions for ways to enjoy yourself on the Halifax waterfront! Bishop's Landing is always abuzz with local treats, gifts, and other services. Be sure to follow us on Twitter, Instagram and Facebook to keep up with what's going on at Bishop's Landing this summer, and let us know if you've come to visit!