Fall is in full swing. This means seasonal foods are in stock, and menus are changing to incorporate the crops that are bountiful this time of year. There are so many incredible places to eat in Halifax–and here at Bishop's Landing, we have a wide selection of restaurants that offer something for everyone. In no particular order (they're all amazing!), here are 4 Halifax restaurants that will help you get your comfort food fix this Fall:
1. The Bicycle Thief (Open 11:30 until late)
A Halifax restaurant favourite, earlier this season, The Bicycle Thief unveiled their 2016 Autumn menu and it is packed full of innovative and exceptionally delicious dishes. With a "1st gear" and "2nd gear" section, there are countless options suitable for your hunger level.
1st gear or appetizer style options include:
Fresh Digby scallops
The infamous beef tartare
2nd gear or entrée options include:
Gnocchi
Lamb chops
Crab cake ravioli
The Bicycle Thief also offers an extensive list of specialty wines and signature cocktails. Explore The Bicycle Thief's full menu here.
2. Ristorante a Mano (Open 11:30am-10pm, closed Sunday)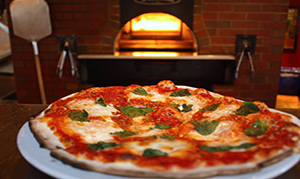 What is more comforting than authentic Italian food? Ristorante a Mano offers a menu full of traditional Italian pizzas, housemade pastas and innovative salads, making it a Halifax restaurant staple. You can choose from classic pizza like margherita or pepperoni, or if you're feeling more adventurous try one topped with house made meatballs or roast chicken. Their wine selection is constantly changing as they bring in new discoveries and Italian favourites. Did we mention the whole menu is available for take-away?
View the full a Mano menu here.
3. Hamachi House (11:30am-10pm Monday-Thursday, 11:30am-11pm Friday & Saturday, 4-10pm Sunday)
Hamachi House offers the finest Japanese fusion cuisine in downtown Halifax. The extensive and diverse menu makes Hamachi the ideal place to satisfy any craving! Hamachi House's menu includes: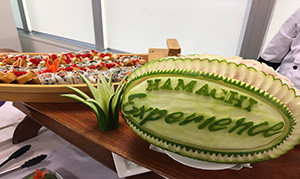 A wide selection of nigiri sushi, sashimi and combinations
Traditionally grilled fresh cut steaks, seafood and curry dishes
Teppan tables that offer an exciting dining experience for groups, allowing you to watch the chefs chopping and grilling right in front of you
And more!
Explore Hamachi House's diverse menu here.
4. Little Oak (Open 4pm until late, closed Sunday)
Little Oak is the most recent restaurant to join our Bishop's Landing Halifax restaurant community. The 27-seater restaurant offers a comfortable environment with local dishes and a unique wine and cocktail assortment. The menu is seasonally inspired and ever-changing based on what foods are available at the Halifax Seaport Farmers Market, just 500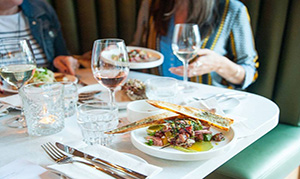 metres away. Favourite dishes include:
Fresh oysters and scallops
Beef tataki
Pork belly
And more!
The impressive wine and spirit selection includes weekly changing cellar wines and innovative cocktail creations. Little Oak also has happy hour each day from 4-6pm!
Click here to discover the local dishes at Little Oak.
Whatever your craving may be, you're sure to find a fix for it here at Bishop's Landing. Come visit us today!