Patio season is exciting anywhere, but especially at Bishop's Landing—thanks to our gorgeous Halifax waterfront setting, we think our restaurants have the best patio views in the entire city.
With four waterfront patios in total, Bishop's Landing is Halifax's premier destination for outdoor dining. Which patio will you visit first?
Coffee, Lunch, and Local Beer on the Smiling Goat Patio
Not many cafes in Halifax boast a waterfront patio, and far fewer offer local and healthy lunch and beverage options. The Smiling Goat Organic Espresso Bar pours Halifax's best latte and has a variety of healthy lunch offerings including vegan and gluten free soups, sandwiches, and baked treats. Plus, enjoy a glass from their wine list or a refreshing bottle of locally brewed beer on their patio.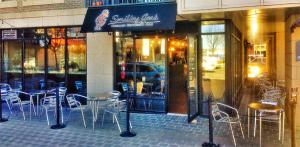 Italian Fusion on the Halifax Waterfront
The Bicycle Thief offers one of Halifax's most upscale patio dining experiences, while maintaining a casual and relaxed atmosphere. It's not just a summer event—The Bicycle Thief also operates their Fire & Ice Bar during the winter! As of May 20th, however, it's all sun and Sangria on the Bicycle Thief patio. Check out their newly redesigned outdoor Champagne Bar (and their new spring and summer menu) for an extra-special waterfront experience.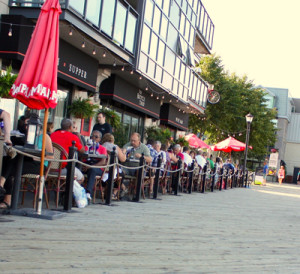 Steak and Sushi Pack Hamachi Patio
Hamachi House at Bishop's Landing caters to the serious patio enthusiast—they opened nearly a month ago despite an unseasonable wintry blast at the end of April! With an outdoor menu ranging from sushi to beefy burgers, there's something to satisfy everyone on the Hamachi House patio. Plus, the harbour views (and boardwalk people-watching) can't be beat.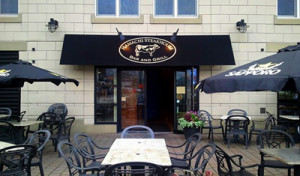 Authentic Italian on Terrazza di Ristorante A Mano
Ristorante a Mano's charming rustic decor is reflected on their patio, which offers both street-facing and waterfront seating. Choose from their extensive wine list and pair with traditional wood-fired pizzas or handmade pastas while you soak up the sun. See their new spring and summer menu to get patio inspired!
Bishop's Landing Does Patios Best
Patio season is our favourite time of year at Bishop's Landing. Visit our vibrant waterfront community and choose your favourite, or spend an evening patio-hopping with your friends. You never know who you might meet—stars such as SNL's Keenan Thompson and Judge Judy have paid visits to the restaurants of Bishop's Landing, so your next celebrity sighting could happen on one of our famous patios!
This weekend, all of our patios are open and ready to welcome you for lunch, dinner, or drinks! See you on the waterfront.