The 2016 edition of Open City Halifax is just around the corner, and Bishop's Landing is again proud to be a sponsor of this annual event! Our waterfront community of independent retailers and restaurants celebrates local business in Halifax, and we encourage you to support your favourite local businesses during Open City 2016 on Saturday, May 7th.
Here are some of the amazing deals and delicious eats you can take advantage of during Open City 2016, both in Bishop's Landing and nearby. If you're in a rush and don't have time to read the whole post, here's a hot tip you need to know—parking in the Pay & Display lots around Bishop's Landing will be free all day on Saturday, May 7th thanks to Waterfront Development!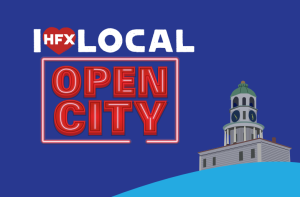 WIN a $150 Gift Card to Bishop's Landing!
Visit any participating location in Bishop's Landing during Open City 2016 and fill out a ballot to WIN a $150 gift card redeemable at any of our restaurants or retailers! You can also enter online in advance of Open City on Saturday, May 7th by clicking here and filling out the form.
TAX FREE at Alexa Pope
Alexa Pope's stylish selections will be tax free all day during Open City 2016. Check out the brand new Rita Ora X Adidas collection and add a sporty edge to your spring and summer wardrobe. You'll also find a dress for every casual-to-formal occasion and new swimwear to gear up for even warmer weather. Plus, they'll be providing you with treats as you shop!
FREE Tastings at Bishop's Cellar
Enjoy the latest vintage of Nova 7 on tap at Bishop's Cellar all day long. Experience one of Nova Scotia's most famous wines for yourself! Visit between 10am and 3pm for free samples of Nova Scotian wine paired with local cheeses and get fresh ideas for your next get-together.
$10 Sumo Burgers at Hamachi House
Back Door Takeout returns to Hamachi House this year at Open City! For just $10, get their famous Sumo Burger featuring mushrooms, onions, blue cheese, and a teriyaki glaze, plus fries on the side. Hamachi House is serving up Sumo Burgers from 11:30am until 5pm.
$3 Gelato at Ristorante a Mano
Once you've polished off your burger, it's time for dessert! Ristorante a Mano will make your tastebuds tingle by serving up indulgent handmade Nutella gelato with hazelnut brittle for just $3 per scoop, from noon until they sell out (and they will sell out!).
20% OFF at Rum Runners NS
Visiting from outside the city, need the perfect gift for a Bluenoser at heart, or just need some really cool glassware to add to your collection? Rum Runners NS is taking 20% OFF all clothing and glassware during Open City 2016!
$3 Ice Cream at Sugah!
Get a Sugah! rush for just $3 all day long—that's all it costs for cones of hand paddled Hunky Dory ice cream during Open City 2016.
Open City Deals Near Bishop's Landing
As we mentioned earlier, getting to Bishop's Landing during Open City 2016 couldn't be more convenient—Waterfront Development is offering free parking in all of their Pay & Display lots on the waterfront, meaning you can park right next door and not pay a cent!
While you're enjoying the Halifax waterfront, don't miss former Bishop's Landing pop-up holiday shop Lost Cod Clothing Co. Get 20% OFF all merchandise at their permanent spring and summer location at Queen's Landing on the boardwalk.
Need to get around the waterfront area in a hurry? You have a few options! I Heart Bikes is offering a rent two, get the third free deal on all rental bikes for the day. Plus, Segway NS will let you take a fun waterfront spin for just $20 (tax included) between noon and 5pm.
If you're feeling creative, stop by the NSCAD Port Campus and experience their Artist For a Day event. Faculty, students, and volunteers will lead you through a wide variety of hands-on activities, including filmmaking, designing, printing, weaving, life drawing, and more!
Bishop's Landing Welcomes You For Open City 2016
We couldn't be more excited to welcome everyone to Bishop's Landing for one of our favourite annual events. We celebrate local businesses every day of the year, and are proud to sponsor Open City 2016. Visit 1475 Lower Water Street on Saturday, May 7th—maybe you'll find your new favourite local business!