Slowly but surely, the days are getting longer and warmer here in Halifax. The change in seasons may motivate you to clean the winter mustiness out of your home, enjoy a weekend hike, and maybe even try out a fresh new style! The exceptional, locally-owned shops and services at Bishop's Landing can help you transform your look for spring.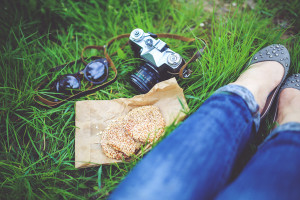 Try A New Spring Hairstyle
Hair Factory Salon & Spa in Bishop's Landing can help refresh your style—or completely change it up—just in time for warmer days.
If you've been thinking about taking the plunge and trying something totally new with your hair, their award-winning team has the chops to pull it off. With Goldwell Nectaya and Elumen Gloss colours, they can reveal a brand new you without doing damage to your hair.
Plus, book your spa appointment for a colourful manicure, rejuvenating facial, or brow and lash tint to get fresh-faced (and fresh-nailed!) for spring.
Freshen Up Your Spring Wardrobe
Going bare-legged isn't just a distant dream—soon, it'll be warm enough to ditch the sweaters and jeans. Alexa Pope's new spring arrivals are in-store and waiting for you to discover your next favourite outfit!
They recently received brand new swimwear from GypSea, an Australian brand inspired by the ocean, photography, and a love of travel. If it's still a bit chilly to be thinking about the beach, check out their new bodycon dresses, faux leather leggings, and brightly coloured bodysuits.
Pick up a flowy tunic and pair it with a distressed jean jacket to celebrate the arrival of spring while fending off the last few chilly breezes of winter. Check out their entire selection of new arrivals here»
What's a new wardrobe without some new accessories? Put your heavier scarves away until next winter, and browse a collection of lighter, locally-designed scarves at Frida Custom Fine Jewellery.
Rejuvenate and Reveal
Bishop's Landing is home to The Landings Surgical Centre, a fully-accredited, state-of-the-art extended care plastic surgery facility. If you've been considering facial rejuvenation, including Botox treatments, facelifts, rhinoplasty and more, The Landings Surgical Centre can help you achieve your ideal look safely and comfortably this spring.
The Landings Surgical Centre also offers non-surgical clinical skin care therapy, including dermabrasion, acne treatment, rosacea treatment, and more. Whatever your skin concern, The Landings can recommend an effective treatment to help you look and feel your best.
Spring-Clean Your System
If cold-weather comfort foods have left you feeling sluggish, Juice Press Inc.'s line of fresh-pressed, organic juice cleanses can help kick-start your healthy eating habits this spring.
Click here to see their 3, 5, and 10-day progressive juice cleanses, and don't miss their individual juice blends and non-dairy milks. Nourish your body and feel great going into spring 2016!
Get Waterfront-Ready
If you missed being on the waterfront this winter, it's time to come back! The weather is getting warmer, and our shops, services, and restaurants are ready to welcome you this spring. For even more fresh spring ideas, visit BishopsLanding.com.