Today, Bishop's Landing is helping kick off Halifax Burger Week 2016!
Halifax Burger Week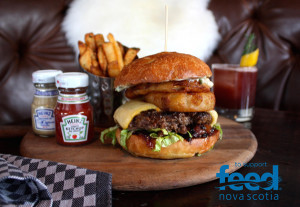 2016, presented by The Coast, is a city-wide celebration of all things burger. It also raises money for Feed Nova Scotia through participating restaurants—over $60,000 to date.
The Bicycle Thief will be offering the Infamous BT Housemade Chopped Tenderloin Burger, which features double smoked bacon, caramelized onions, and aged cheddar cheese. They've also revealed a unique second Burger Week special: Lorenzo's Wild Valley Boar Burger, with radicchio relish, crispy onions, and Fontina on homemade rosemary focaccia with Bombetta-battered home-cut potato wedges. For every Chopped Tenderloin or Lorenzo's Wild Valley Boar Burger sold, $5 will be donated to Feed Nova Scotia.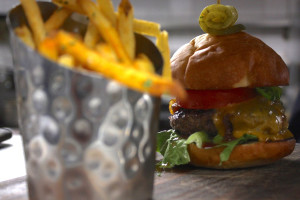 While you're down near the Halifax waterfront, don't miss Baton Rouge's Black Tie Burger—Cajun-seasoned beef on a bamboo-charcoal black bun! $2 will be donated to Feed NS for every Black Tie Burger devoured.
We're also salivating over a selection of $6 prix fixe burgers from some of our favourite restaurants outside Bishop's Landing. 2 Doors Down has fired up The Dragon Burger, with red dragon sauce, kimchi coleslaw, Dutchman's Dragon's Growl spread and cilantro mayo spicing up a house-ground chuck, brisket, and short rib patty. The Auction House's El Pastor Burger is an all-pork creation topped with Swiss cheese, grilled pineapple, cured onions and house-made black bean spread. And for vegans and vegetarians, The Wooden Monkey is serving up a Mexican Blackbean burger with rice and organic roasted corn, chunky guac, chipotle salsa, and a nutritional yeast "cheese" sauce.
If you're looking for burgers all year round (with bonus waterfront patio seating), Bishop's Landing is the place to find them! Hamachi Steakhouse serves house-made steak burgers crafted with AAA grade tenderloin beef for lunch and dinner. Try the Waterfront Burger with tempura sweet potato and wasabi mayo, the Blue Cheese Burger, or the teriyaki-glazed Sumo Burger.
Plus, if you're craving something a little different, The Bicycle Thief's regular menu includes The Sloppy Mo, with braised beef short bib ragù, sweet onions, wild mushrooms & melted Fontina atop grilled focaccia bread.
Make sure you add The Bicycle Thief to your 2016 Halifax Burger Week lineup, and help support Feed Nova Scotia while you enjoy a delicious burger on the waterfront!