If Spring has you feeling crafty, we can relate. We're excited for the weather to get warmer, the days to get longer, and the waterfront crowds to get bigger, so we can show off all the handcrafted goodies our independent retailers have to offer!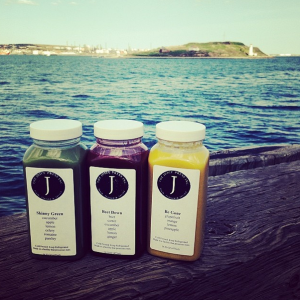 ​1. Custom Accessories from Frida
Frida Custom Fine Jewellery's new arrivals include one-of-a-kind, locally designed scarves that make a bold statement for spring—the warmer weather means you can get a little more stylish instead of reaching for your wooliest scarf. Year-round, Frida handcrafts custom pieces for the discerning and daring jewelry collector. See their signature collection pieces or have a bespoke piece made just for you.
​2. Locally Brewed and Poured
Two doors down, Bishop's Cellar offers enough locally made products to keep any aficionado satisfied. See what's available at their growler fill station—most weeks, you'll find at least one Haligonian craft beer producer on top. Wine drinkers will find Avondale Sky, Jost Vineyards, Benjamin Bridge, Gaspereau Vineyards, Lightfoot & Wolfville, and many other Nova Scotian wines for sale.
​3. Halifax's Sweetest Treats
Around the corner, you can satisfy your sweet tooth while shopping local. Rum Runners Rum Cake Factory bakes traditional rum cakes right on the Halifax boardwalk, using real rum or whiskey from Glenora Distilleries in Cape Breton. Next door, Sugah! creates sweet treats using centuries-old techniques and hyperlocal ingredients. Try their hand-paddled ice cream and pick up chocolates featuring real Atlantic sea salt.
​4. Local Chef Creations
If you're still hungry, you can visit any of our three waterfront restaurants—The Bicycle Thief, Ristorante a Mano, and Hamachi House are locally-owned eateries whose chefs are serving up unique creations each and every day. You won't find any chain-restaurant dishes here, just the finest food Halifax has to offer.
​5. Independent Coffee in Halifax
Bishop's Landing is also home to one of Halifax's best independent coffee shops. Smiling Goat Organic Espresso Bar serves up housemade soups, salads, sandwiches, and baked goods—plus, they brew some of the best coffee in town.
​6. Upgrade the Grocery Store Cake
Should you be shopping for a special occasion, Piece of Cake Fine Bakery & Café can help you find more than your typical supermarket cake. Talk to one of their bakers about a custom cake, and explore delectable options like strawberry puff cake or handmade macarons.
7. Locally Fresh Pressed Juice
Sure, you can grab juice at the supermarket—but for maximum nutritional benefit (and max taste!), head down to Juice Press Inc. for their selection of fresh-pressed juice blends, with new produce being brought in daily. They offer juice-to-go, plus raw snacks and lunch options, and a series of juice cleanses.
If shopping local is important to you, or you want to experience some of the best locally made food and products Halifax has to offer, Bishop's Landing has amazing independent retailers and restaurants waiting for you to visit on the Halifax waterfront. See you soon!