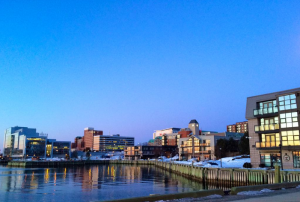 One of the biggest misconceptions going is that parking in downtown Halifax or on the waterfront is difficult—but enjoying all this area (including Bishop's Landing!) has to offer is easier than you might think! According to a survey conducted by the Downtown Halifax Business Commission and the Spring Garden Area Business Association, there are nearly 7,500 parking spots in downtown Halifax. Here are our best parking tips for the Halifax waterfront around Bishop's Landing.
Street Parking Near The Halifax Waterfront​
​​There is plenty of street parking on the Halifax waterfront near Bishop's Landing. You can find spots (both metered and free with a time limit) along Lower Water Street. If you can't find any spots on Lower Water Street, there are plenty of side streets with parking as well! Try Salter Street or Morris Street for a nearby spot.
Parking Lots On The Halifax Waterfront​
​​There are six total parking lots on Lower Water Street, with two located on either side of Bishop's Landing. These parking lots accommodate several hundred cars and are now even easier to use! Simply insert your credit card at any of the Pay-by-Plate terminals and follow the on-screen instructions.
Parking rates are $3/hour, $16/day, or $6/night.
​Free Parking On The Halifax Waterfront​
​​Thanks to Waterfront Development, you can now park for free on the Halifax waterfront every Saturday for your trips to Halifax's farmers markets! The Cunard lot (located to the right of Bishop's Landing) is free to use on Saturdays between February 6 and May 28, from 6:00 am until 3:00 pm.
Bishop's Landing is located just moments from both the Seaport Farmers' Market and the Historic Farmers' Market in Brewery Square. That means you can spend a perfect Saturday morning or afternoon shopping locally in all three locations, without having to worry about parking!​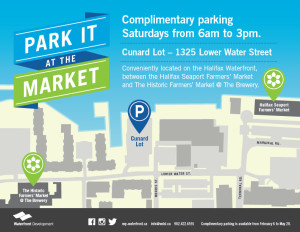 Park Inside Bishop's Landing​
​​Yes, you can park inside Bishop's Landing! We have a parking lot right in the middle of all of our shops, restaurants and services. Our lot operates using the same convenient Pay-by-Plate kiosk system as the nearby waterfront parking lots. Spaces are limited within Bishop's Landing itself, but if you don't find a spot right away, there are larger parking lots right next door.
Getting To The Waterfront With Halifax Transit​
​If you're looking for a greener alternative to driving (or plan to visit one of our licensed restaurants and enjoy a drink), there are still lots of options for you!
​Bishop's Landing is a short walk from the Lower Water Street bus terminal serviced by routes 2, 4, 5, 6, 82, and 90. You can also take most routes (1, 10, 14, 18, 20, 32, 810, 81, and more) from Mumford Terminal to the bottom of Spring Garden Road, after which we're just a 5 minute walk away!
If you're visiting us from the North End or further down in the South End, route 9 runs along Barrington Street just a few moments up from Lower Water Street. Also, you can take the ferry from Dartmouth to the Halifax ferry terminal and walk along the boardwalk to get to Bishop's Landing! Click here for route and schedule information from Halifax Transit.
​No Matter How You Get Here, Bishop's Landing Is A Great Destination​
​​With three full-service restaurants, a coffee shop, raw juice bar, bakery, private wine and spirits store, and many more independent retailers and services, we're an incredible shopping and dining destination on the Halifax waterfront. Follow our tips to easily find downtown parking and enjoy everything Bishop's Landing has to offer!