Here at Bishop's Landing, we truly believe it's better to give than to receive. That's why this holiday season, we're giving away a $50 gift certificate every day from December 1st through December 17th! These gift certificates can be used at any one of the independent retailers or restaurants here at Bishop's Landing. But, that's not all—we're also giving away one $500 shopping spree grand prize at Bishop's Landing! What better way to finish your (local!) holiday shopping than to let us take care of the bill?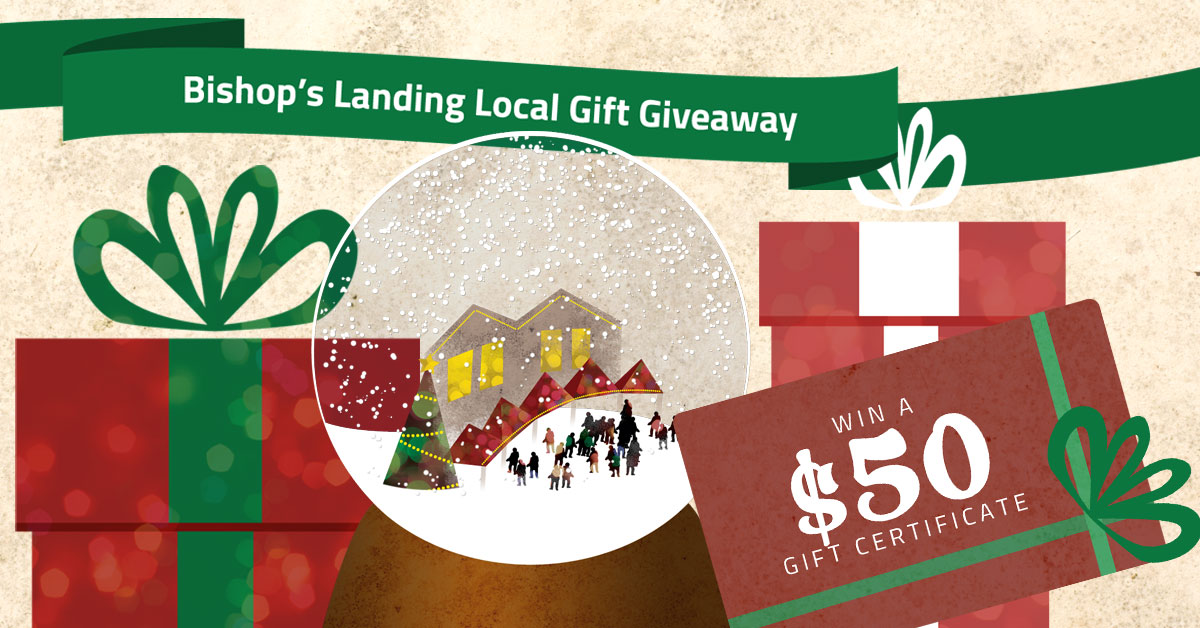 Signing Up is Easy
For your chance to win one of our daily draws, simply enter online here. You don't even need to leave the house!
For your chance to win the $500 grand prize, you'll have to sign up in one of the stores at Bishop's Landing. And don't worry—if you win one of our daily draws, you're still eligible to win our grand prize as long as you also enter in-store, which you can do while cashing in your $50 gift certificate.
Find Something For Everyone at Bishop's Landing
Once you win your gift card, don't worry, you're going to have plenty of places to spend it! For example, if you have a sweet tooth, you'll definitely want to check out Sugah! and Rum Runners, where you'll find tasty options that are handcrafted using local ingredients.
After you pick up some treats for kids, it's time to stop by Bishop's Cellar to find some treats for the adults! With a wide assortment of wine, beers, and spirits, you'll find something for every adult on your shopping list when you stop in here.
If you're shopping for the fashionista in your life, why not check out Alexa Pope or The Lost Cod Clothing Company? And since you know your loved ones will want to accessorize their new outfits, you've got to stop by Pearl City and Frida Custom Fine Jewellery!
The Holidays Start at Bishop's Landing 
With so many shopping options, you'll have no trouble finding all your gifts for the season at Bishop's Landing. And with our daily draws for $50 gift certificate and the $500 grand prize draw, you'll have plenty left over for dinner at Ristorante a Mano, Hamachi Steakhouse, or The Bicycle Thief! For more information on our upcoming events, check out www.BishopsLanding.com, and from all of us to all of you, happy holidays!