Each year (and especially around the holidays), more and more Haligonians pledge to spend some of their gift-giving dollars at local retailers rather than big-box stores. Not only does this help independent business owners and the local economy, but it also builds a stronger sense of community and helps local people discover incredible local products.
Bishop's Landing is proud to be home to a variety of locally and independently owned restaurants and boutiques. Here are some of their amazing local gift ideas, no matter the occasion!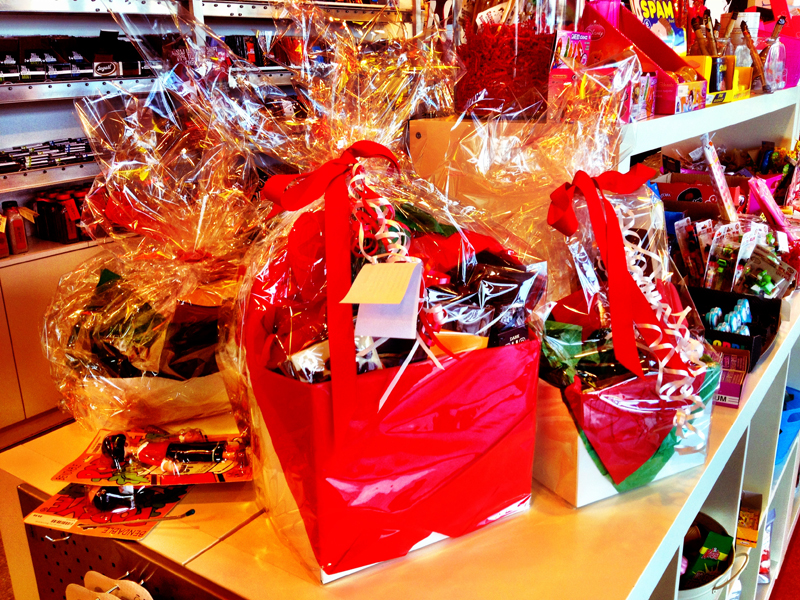 Customizable gift baskets for the sweet-toothed
Next-door neighbours Rum Runners and Sugah! offer delicious handcrafted treats made from local ingredients, and will happily help you customize a gift basket for a friend, family member, or colleague.
At Rum Runners, each of their famous rum cakes are made from scratch using flour, sugar, butter, and local rum! Each one of their cakes contains 4 ounces of rum and comes packed in a keepsake tin. Their Glen Breton Whisky cake is made using Nova Scotia's own Glen Breton Single Malt Whisky.
Sugah! is best known for creating mouth-watering treats using hyperlocal ingredients. They use dried cranberries and blueberries from Lunenburg, locally harvested sea plants and sea salt, locally brewed Garrison beer for their Beer Brittle, and maple treats using Acadian Maple products. Once in a while, they even name a new confection after a Halifamous character! Pick and choose from the treats at Sugah! to create a sweet gift for anyone on your list.
Local libations
Technically, buying anything from Bishop's Cellar counts as buying local, since they're one of just a handful of independent liquor stores in Nova Scotia. However, don't miss this local retailer's Nova Scotian products—wrap up a bottle of Avondale Sky Martock Late Harvest, made from grapes used in the production of icewine, give an iconic bottle of Benjamin Bridge Nova 7, or pick up a bottle of Jost for yourself.
With over 80 local choices, you'll find your new favourite Nova Scotian wine at Bishop's Cellar. Give everyone on your list your favourite bottle, and hope they invite you to join them when they open it!
Skip the chains and send them to dinner
Want to give someone the gift of not having to do the dishes? Giving restaurant gift cards is a popular choice around the holidays. Don't send your giftees to yet another chain restaurant—give them a night out at Bishop's Landing in any one of our locally owned restaurants.
Whether they like sushi, steak, traditional Italian pasta and pizza, seafood, or even just a great burger—and a decadent dessert at the end—they'll find something to satisfy their tastebuds at The Bicycle Thief, Ristorante A Mano, or Hamachi Steakhouse.
A glittering gift for someone special
If you're looking for a gorgeous and unique piece of jewelry and don't know where to start, Bishop's Landing can help. We're home to Pearl City and Frida Custom Fine Jewelry, along with several boutique shops carrying accessories, fashion, and more.
We hope to see you soon at Bishop's Landing, discovering all the extraordinary gifts our local and independent retailers and restauranteurs have to offer you—and everyone on your holiday gift list!