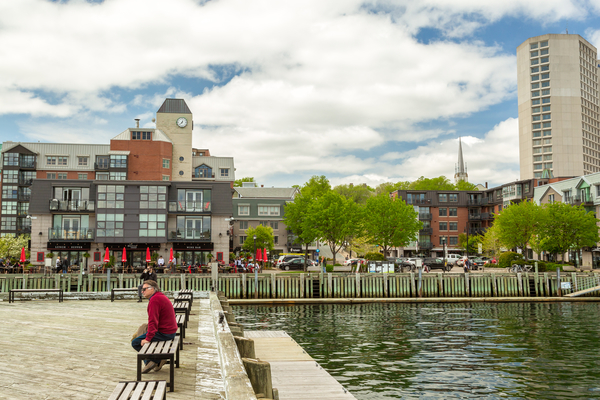 Halifax Waterfront events are among the best the city has to offer. Whether it's in or around Bishop's Landing or at another exciting Halifax Waterfront locations, these events are well known all around the city. Of course, fall is one of the most beautiful seasons down here on the waterfront, and there are a wide assortment of things to do and see every day of the week. In this post, we're going to take a look at some of the great Halifax Waterfront events taking place during the upcoming fall season. Get out your calendars, we've got some amazing events to cover!
Sculpting your Halifax Waterfront Events
Starting September 19th and running through October 17, Sculpture Nova Scotia has teamed with a number of artists to create large-scale works, as well as demonstrate their talents right here on the waterfront. This month long outdoor sculpture-arts festival will showcase exciting artistic talent from all around the world!
Halifax Oktoberfest: Home on the Waterfront
Oktoberfest is a cultural festival taking place September 25th and 26th that is meant to celebrate the German heritage of many within the community, while also raising money for local charities. This year, the waterfront site of Oktoberfest will be transformed into an authentically German beer hall with traditional music, food, and dancing. If fun and food are for you, this is one of the Halifax Waterfront events that you certainly do not want to miss!
Ladies Beer League at Bishop's Cellar 
Bishop's Cellar is excited to be teaming up with the Ladies Beer League of Halifax on September 25th for a fun night of craft beer and food pairing. This event will teach the basics of food and beer pairings and provide you with the opportunity to sample a great selection of tasty treats  and drinks.
Enjoy Delicious Seafood at the Halifax Oyster Festival
One of the most popular Halifax Waterfront events is the annual Oyster Festival, a one-day showcase of Maritime oyster producers, craft beers, wine, and spirits. With 12 Maritime oyster vendors on site, over 40,000 oysters are expected to be shucked on the Halifax Waterfront October 3rd. Perhaps best of all, the oysters are all you can eat, meaning it's going to be a day on the waterfront you (and your tastebuds) definitely won't forget!
Don't Forget to Stop by Bishop's Landing!
Before or after your favourite Halifax Waterfront events, you'll definitely want to stop by the shops at Bishop's Landing. Whether it's Bombetta Wednesdays at Ristorante a Mano, a warm, delicious pumpkin latte at the Smiling Goat, or a sweet treat from Sugah!, Bishop's Landing will perfectly complement all the Halifax Waterfront events you decide to attend this fall!
For more information on Halifax Waterfront events taking place this fall, be sure to check out my-waterfront.ca, and, as always, bishopslanding.com is the place to go to learn more about what's coming up right here at the Landing.