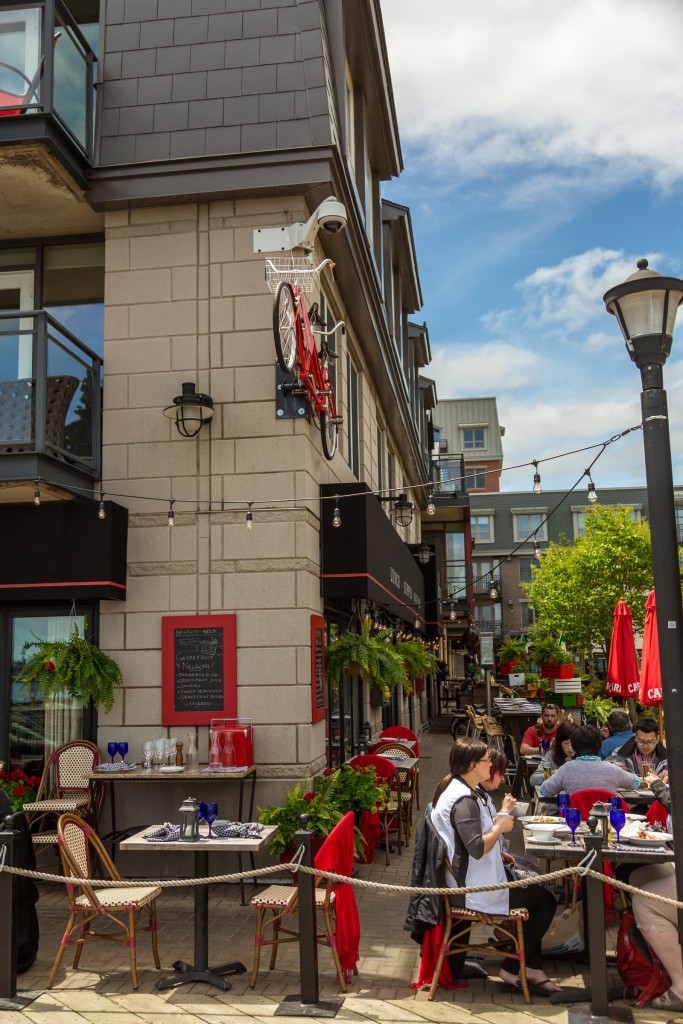 It's early September, and we all know what that means—it's time for students from all around the world to come back to Halifax for another year of university. There are plenty of things for students of all ages to enjoy at Bishop's Landing, so we're going to highlight a few of our favourites! Whether it's first thing Monday morning or the glorious start of a long weekend, we'll have all your bases covered.
Grab a Coffee Before Your Morning Class
Everybody knows it's important to stay alert (especially in those early morning classes) which is why you should start your day by achieving maximum caffeination at The Smiling Goat. With a wide assortment of drink and snack options, you'll be fuelled up and ready to tackle your day after you visit the friendly baristas at The Smiling Goat.
Stay Energized Throughout Your School Day
When lunch time rolls around and you need a boost to make it through the second half of your day (or if you're lucky and your classes don't start until the afternoon), Juice Press Inc. is the perfect place to stop in for a quick lunch. The Juice Press offers plenty of raw, freshly pressed juice and delicious salads for those students who are not only committed to their studies, but also to a healthy lifestyle.
A Sugah! Rush is Perfect for Late Night Study Sessions 
When you're working late into the night on projects and term papers, or studying for finals, you know how important it is to have some extra food close at hand. Sugah! offers delicious, handmade treats for any time of day. Whether you're looking for a tasty hand paddled ice cream, clusters, or classic chocolate bars, this is where you'll get the Sugah! buzz you need to finish your assignments off on a strong note.
What's Work Without a Little Fun?
You work hard at school, so it's only fair that you have a little fun, too! If you're hitting the town with your girls for a night out, you'll want to check out Alexa Pope for the perfect outfit. Inspired in equal parts by the runways of Paris and the street styles of New York and LA, Alexa Pope is the place for the fashion forward students in Halifax to shop. And best of all, Alexa Pope is offering a 15% discount every Tuesday for students from now until May. All you have to do is show a valid student ID card. There's only one thing better than getting the perfect new look, and that's getting it at a deal!
Once you get that perfect outfit, it's time to hit the town! Start by heading over to the Bicycle Thief for great company at their Champagne Bar, where you can sip bubbly and catch up with your best friends. If you're hitting the town on a Wednesday, you should check out Bombetta Night at Ristorante a Mano. Bombetta is a custom blend craft ale that's brewed in a true Northern Italian style and pairs perfectly with your favourite dish. If it's the weekend, you definitely need to stop by Bishop's Cellar to explore their selection of craft beer, wine, and spirits, or stay for one of their famous wine tasting events!
Of course, one of the best parts of going out at night is going out for brunch the next morning! At Bishop's Landing, we have a food truck brunch every Sunday, where you'll find an option for every taste. Honestly, there's no better way to celebrate acing your last test (or just capping off a great night out) than with Sunday #BrunchAtBishops.
Bishop's Landing is The Place for Students, All Year Long! 
There's no doubt you want to start the school year off right, and what better way than by checking out the shops and services nestled along the historic Halifax waterfront at Bishop's Landing? We've got straight A's when it comes to food, drinks, fashion, and fun! For more information on upcoming events and specials at Bishop's Landing, head over to www.BishopsLanding.com.