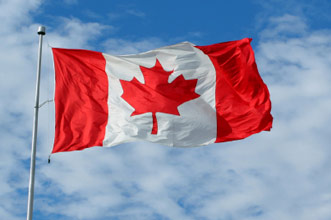 July 1st is a big day for Canada, and it's also a big day at the Piazza! Not only is the Piazza at Bishop's Landing a great spot to watch the Canada Day fireworks, there will also be plenty of things to do throughout the day. So this Wednesday, grab your Canadian flags, put on your sunscreen, and join us down at the Landing.
Celebrate Canada with a Sweet Treat!
Nothing goes better with a beautiful day than an ice cream, and you won't find any ice cream that's better than Sugah! Not only that, Sugah! also makes a wide assortment of fudge, peanut brittles, and old fashioned candy on site—all of which you can have mixed into your ice cream! Because Canada Day is a special occasion, Sugah! will be open until midnight, so you'll be able to satisfy that sweet tooth all day and evening long.
Live Music and Delicious Food, What More Could You Ask For? 
For a memorable dinner this Canada Day, why not stop into the Hamachi Steakhouse at Bishop's Landing? Just recently, they've launched a new fusion menu that is full of delicious dishes and sushi rolls. While you're checking out the new menu, you'll be treated to the musical stylings of vocalist Melissa Boyd and guitarist Cas MacRae, who will be performing from 3:30 to 7:30. There's no doubt that after a meal at Hamachi, you'll be ready to enjoy the Canada Day fireworks!
Stop by Bishop's Cellar and Make a Toast to Canada! 
​​Craft beer lovers will be excited to learn that Bishop's Cellar recently unveiled a brand-new Growler tap. Featuring five local craft beers from Propeller, Garrison, Good Robot, Granite Brewery, and Tatamagouche Brewing Company (with more to come), they're happy to fill your own Growler or hook you up with one of their own. See the amazing new installation in action on Canada Day—they're open 10am until 10pm for all your celebration needs!
A True North Tradition! 
Canada Day is always a great time here at the Piazza. Whether it's ice cream and sweets with your family, a great meal with someone special, or drinks with your closest friends, you'll find plenty of things to do while you celebrate the birth of this great country with us! For more information on events and activities happening around the Piazza, be sure to check out www.BishopsLanding.com.
And from us to you, Happy Canada Day!