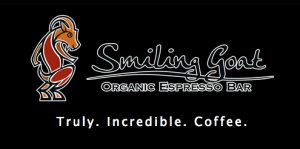 Tonight (Tuesday, May 27th) from from 5 – 7pm, come to Smiling Goat Organic Espresso Bar's Bishop's Landing location at 1475 Lower Water Street to enjoy live jazz from the Evan Mahaney Trio.  
St. FX music alum Evan Mahaney (sax) and Casey Thompson (bass) are joined by current X student Adam Seto (guitar) for an evening of stretching out on familiar jazz standards.
Tonight's performance kicks off Smiling Goat's Summer Jazz Series, and will be followed by other amazing musicians including:
Sageev Oore & guests
Simon Fisk & J. Anthony Granelli
Paul Vienneau & Jake Hanlon
Damien Moynihan, Larry Bjornson & Sylvio Pupo
and other surprise guests!
Most performances will be from 5pm to 7pm. Stay tuned for more upcoming dates!