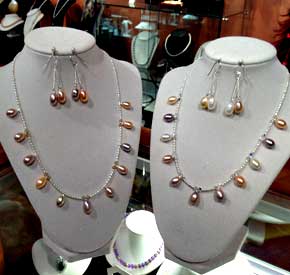 For the month of April, Pearl City is offering exciting specials with chances to save on (or win!) their beautiful jewelry—perfect leading up to Mother's Day in May!
TAX FREE
10% OFF on everything in store
Fill out a ballot to WIN a beautiful pearl necklace valued at $500 (no purchase necessary)
Pearl City's finely-crafted pearl jewelry is strung by hand at their Bishop's Landing location, offering custom jewelry in addition to the stunning pieces on display. They also offer a selection of silver and semi-precious stones.