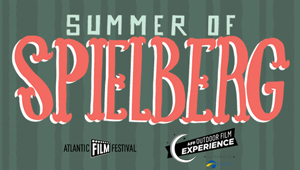 Beginning this Friday, July 19th and continuing every Friday night until August 23rd, the Atlantic Film Festival Summer of Spielberg outdoor film festival will be screening next door to Bishop's Landing on the outside wall of the Nova Scotia Power building. The first film to be shown is E.T. The Extra Terrestrial with the following schedule for the remaining shows.
Raiders of the Lost Ark – Friday, July 26.
Jaws – Friday, August 2.
Catch Me if You Can – Friday, August 9.
Jurassic Park – Friday, August 16.
People's Choice (Minority Report, Close Encounters of the Third Kind or War of the Worlds) – Friday, August 23.
The People's Choice award will be chosen through a vote on Facebook.
Plenty of space to sit will be available to the south of the Piazza near the Tall Ship's Quay. The shows start at dusk and the gates are open an hour beforehand. Bring blankets or chairs with you and arrive early to get a great spot.
Why not visit one of our great restaurants to have a nice meal or plan to do a bit of shopping before the show?