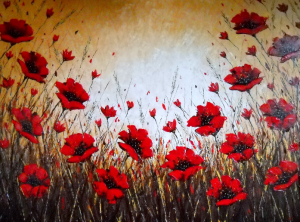 New work by Kelly Mitchelmore of Windsor, Nova Scotia has arrived at Maples Gallery and is showing until April 30th.
Kelly is an acrylic and oil painter with a flare for the dramatic and a love of saturated colours. A nocturnal artist, Kelly specializes in painting by knife in the darkness, working with thick layers of bright contrasting colours. Knife painting – also known as impasto – allows Kelly to add texture, bold colour and metallic undertones to her canvases, allowing for more dimensions and luminosity.
Known for her vibrant pallet, Kelly specializes in painting:
Flowers and Nature
Nautical and Scenic
Buildings and Streetscapes
Figures and Portraits
Commissions
 Small Paintings
Showing throughout Nova Scotia, she is always ready for a new challenge and commission work. Her pieces make the perfect statement in any home or office. Visit her works during the month of April at Maples Gallery, open Monday – Saturday from 10:00am – 5:00pm.