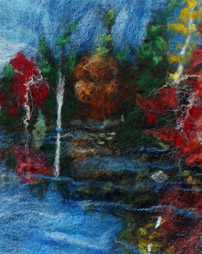 January 7th through January 31st, Maples Gallery is pleased to present a gorgeous selection of new work by Nova Scotia-based artist Sanna Rahola.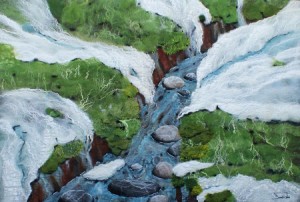 Sanna Rahola is renowned for creating multi-paneled wall art in handmade felt. Themes embrace floral and landscape, figurative and abstract. Richly textured and colored, a complex working of fibre and wood, these works give an intimate and personal vision of man and nature.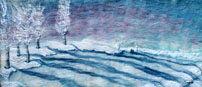 Each work of fibre art is created from handmade felt by building alternating layers of carded wool. By manipulating other raw fibres such as silk and linen and placing them down on the final layers of wool, Sanna accents her pieces as if using the fibres as heavy brush strokes. These accents reflect light, adding to the depth and rich texture of her work.

Sanna and her husband Douglas have received awards of excellence including consecutive 'Best New One-of-a-Kind Award' 2005 and 2006 from the Nova Scotia Designer Crafts Council. Their work continues to be the subject of considerable media coverage.
Visit Maples Gallery Tuesday – Saturday between 10:00am – 5:00pm to view these spectacular, locally-created works or visit the artist's website.