This holiday season, the merchants at The Piazza at Bishop's Landing have teamed up to spread Christmas cheer with a series of fun, free-to-enter contests taking place both in-store and online during 12 Days of Christmas in The Piazza.
From December 3rd – December 14th, customers will have daily chances to win their purchase in-store at participating merchants. Each day, a different merchant will be featured and one lucky customer will be chosen at random to win their entire purchase. Simultaneously, contestants can enter in-store or online for two daily draws for $50 Piazza gift cards redeemable at any merchant.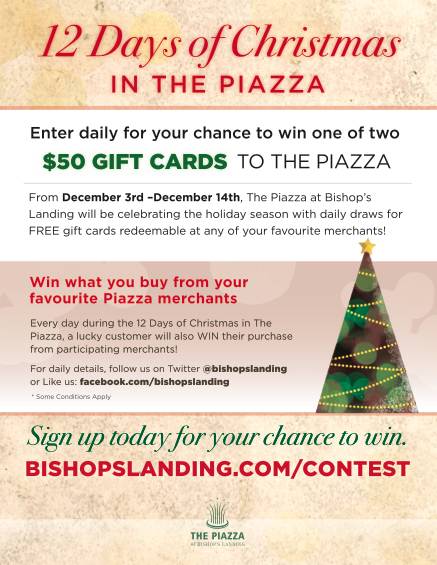 "With 12 Days of Christmas in The Piazza, we want to treat participants to the exceptional variety of one-of-a-kind shops and products that exist here," says Scott Layton, General Manager for The Piazza at Bishop's Landing. "When it comes to the holidays, The Piazza is a gift-giver's paradise. In addition to variety, all businesses are locally owned and operated and many specialize in locally-made and Canadian products."
Participating merchants include Bishop's Cellar, Turbine, Sugah!, Rum Runners Rum Cake Factory, Bedazzled, Maples Gallery, The Unicorn, Caffé Ristretto, Paul Stulac Cigars, Pearl City, Hair Factory and Quick Plus Convenience, representing everything from wine to cigars, confections, women's fashion, jewelry and more.
"It's great to see a trend toward supporting the local, independent retailers and producers that make our city vibrant and interesting. We hope that this initiative introduces more people to our merchants and that, in turn, we delight them with new discoveries for 12 consecutive days."
The featured merchant where customers can win their purchase will be announced daily on Twitter (@bishopslanding) and Facebook (facebook.com/bishopslanding). Some conditions apply. Beginning Monday, participants will also be able to enter daily to win one of two $50 Piazza gift cards, either in-store at participating Piazza merchants or online at bishopslanding.com/contest.