There's lots to look forward to with the onset of warmer weather, including the return of colour to the palate – both in nature and our wardrobes. In the fashion world, one of this season's most standout colour trends is vibrant, interesting and unexpected orange. The shops at Bishop's Landing have taken inspiration from the Spring 2012 runways and it shows!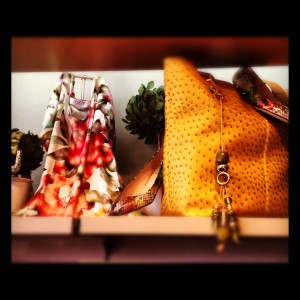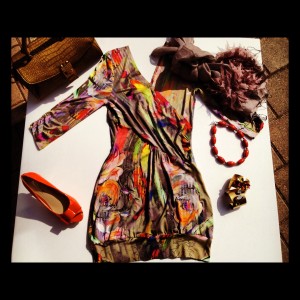 At The Unicorn, there's a flattering shade for everyone from mandarin, tangerine and peach to burnt orange. Incorporate one of their orange scarves with an otherwise neutral outfit, or pick up bright tones from a floral dress with a patent orange heel (featured above).
Turbine by Lisa Drader-Murphy can help you stand out in one of its boutique's gorgeous orange dresses. Looking to make a bold Spring statement? Pair one of these bright beauties with a clutch or pumps in a contrasting colour, like cobalt blue or violet.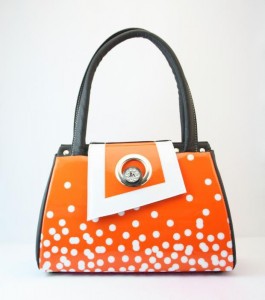 At Maples Gallery, you can add a whimsical punch of juice-pop orange to any outfit with a Michique handbag.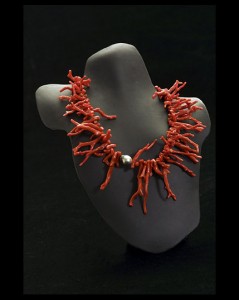 Effortlessly dress up a white t-shirt and jeans combination with a statement necklace like the gorgeous one from Frida's Caribou Collection. This piece would work equally well to individualize a strapless, neutral dress or with a blazer/blouse combination.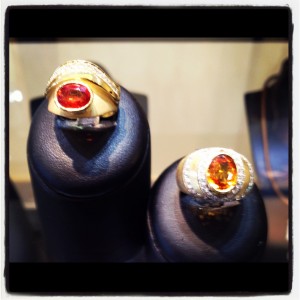 Looking for some sparkle and a pop of colour? Frida also offers exquisite rings featuring orange sapphires. Contrary to popular belief, sapphires come in a range of colours other than blue, and the orange sapphires featured here are naturally occurring.
Feeling inspired? Visit the shops at Bishop's Landing for more great outfit ideas and own orange this spring!