Halifax International Tuna Tournament – Sat Sep 24, 2011 to Mon Sep 26, 2011
South Battery Marina & Tall Ships Quay, Halifax Waterfront
This September in Halifax, NS, International and local sports fishermen will join private boaters along with local charters to compete in the new "Halifax International Tuna Tournament (HITT)".
Competitors will vy for the newly revived Halifax Herald Tuna Trophy along with the excitement and adrenalin rush of catching one of the toughest of all big-game fish. By special arrangement HITT is sanctioned by the Federal Department of Fisheries and allows a limited number of recreational licenses for this event.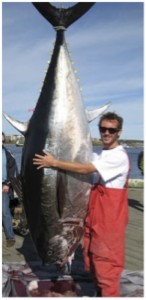 All fish caught in the tournament will be sold domestically and overseas with the proceeds of all sales, along with a portion of the tournament entry fees, being donated to the "IWK Health Centre" in Halifax, NS. The "HITT" is one of the few opportunities to recreationally fish for the highly regulated and elusive bluefin tuna.
Tuna weigh-ins and vessel dockage will be along the Halifax waterfront at Tall Ships Quay and South Battery Marina (Bishop's Landing).