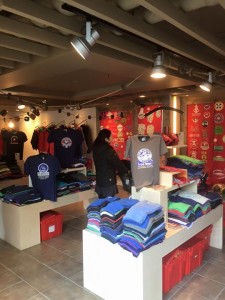 The holiday season is just around the corner and Bishop's Landing has a present for you to unwrap early—a pop-up shop from the folks at the Lost Cod Clothing Company! Starting this week and running through to December 24th, Lost Cod Clothing Company will be open at Bishop's Landing, showing off their unique clothing that highlights all things Nova Scotia. The shop will be open 10am to 6pm, seven days a week.
Celebrating Nova Scotia's Rich History
The Lost Cod Clothing Company strives to pay tribute to the industries, organizations, and teams that have helped to shape the Nova Scotia we know and love today. They want every garment they sell to tell a story, and they make this happen by offering dozens of different logos and designs that will help you show off your East Coast pride!
A Design For Everyone
No matter your interest, the Lost Cod Clothing Company has a design for you. If you're a sports fan, you'll find vintage logos for the Sydney Millionaires and the Halifax Citadels. If you love iconic maritime businesses, you'll want to sport the original Ben's Bread or Wilson & Sullivan Ginger Beer logo. Lost Cod Clothing Company even has a design that pays tribute to our favourite local weather man, Frankie MacDonald!
Once you choose the logo that's right for you, it's time to choose your garment. Whether you want a t-shirt, a long sleeve shirt, a hoodie, or something else, Lost Cod can give you a unique gift for yourself or someone special. You can even have a logo printed on an apron for when you're cooking in the kitchen! All of their garments come in a variety of sizes and colours so you'll certainly have no trouble finding the perfect one for you.
Unique Gifts For Nova Scotians, or Bluenosers at Heart!
Lost Cod Clothing Company garments make great gifts for friends and family returning home for the holidays, as well as locals who really want to show some love for their favourite part of the country. And, of course, sometimes you just have to treat yourself!
For more information on the Lost Cod Clothing Company, head over to their website, where you'll find pictures of all the different logos you can choose to put on your garments. And, as always, be sure to check out www.BishopsLanding.com for information on all the exciting upcoming events taking place at Bishop's Landing.