Just in time for the long weekend, we have the scoop to help keep you sunburn-free, fashionable and ready to entertain this Canada Day.

Beautiful burn prevention at The Landings
To protect you while you're enjoying your Canada Day outdoors, The Landings has introduced two new sunscreen-based cosmetics to its skincare line that will keep you looking flawless and shield you from harmful rays
The first is the new Sunforgettable dry mineral sunscreen by Colorescience, now available SPF 50.
For an extra dose of protection, begin by applying the new TIZO makeup primer. This mineral-based formula contains SPF 40 and is excellent for sensitive skin.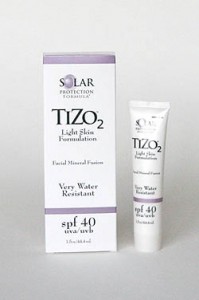 For best results, lightly apply a half dime size amount of the TIZO primer to the face as you would any other makeup primer, then follow with brushing and blending the Colorescience Sunforgettable powder on top.
Find the perfect festive ensemble at Turbine
For festive – and elegant – ideas for your Canada Day outfit, look to Turbine for a variety of beautiful items available in our national colours.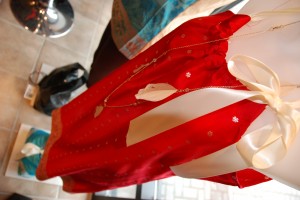 This dress from Turbine's Exclusive India Collection provides a vibrant pop of red and offers the ease and breathability of Indian silk.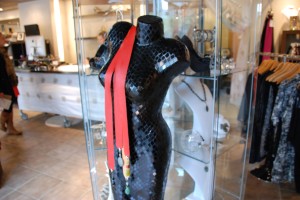 If you prefer to just add a pop of red instead of an all-over look, patent red Mary Janes would do the trick, or for an even more subtle dose, accent your waist with one of these slim belts over a white top or dress.
Enhance your BBQ at Bishop's Cellar
Speaking of reds and whites – if you're looking for some great wine options for pairing with BBQ this weekend, be sure to check out the tasting this Friday from 5:00pm – 7:00pm at Bishop's Cellar.  They'll be featuring wines that are excellent for a variety of different BBQ dishes, providing the perfect opportunity to find new favourites and wow your guests this weekend. Be sure to RSVP by telephone or email. Tickets are $20 at the door.
Enjoy the long weekend and a Happy Canada Day to all!