In the world of fashion, designers often draw inspiration from the past. Two very interesting (and Canadian) lines at Bedazzled have taken such inspiration to the next level and have fused it with a healthy dose of creativity, artistry and eco-mindedness to create gorgeous jewelry made with recycled antique wares.
Vintage Chic by L Carr Designs, for example, is crafted from vintage silver-plated dishes, some dating back to the early 1900's. In their former lives, these pieces were serving trays and bowls, candy dishes, pot lids and bread plates. Now they sparkle at Bedazzled as gorgeous earrings, pendants, bracelets, belts, rings and brooches.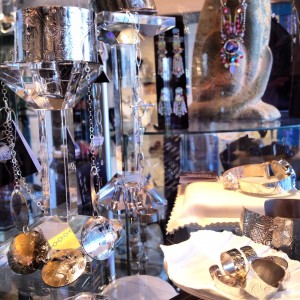 Artist Lynda Carr first discovered beauty in silver-plated vintage pieces when she came across an old butter dish lid at a local antique shop. She became inspired to take pieces that were forgotten and no longer used and transform them into one-of-a-kind pieces of jewelry. Combining of-the-moment looks with a nostalgic tie to the past, her line of individually handcrafted jewelry is both charming and elegant.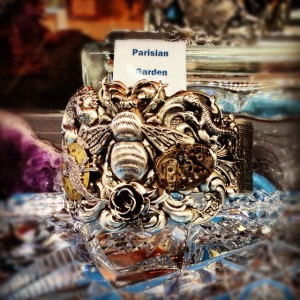 Another stunning line that incorporates antique items in its jewelry is Halifax's Arcane Angel. Vintage mechanisms and time pieces dating from 1815 to 1940 are embedded in every Victorian-inspired, retro-futuristic design.
Each piece of jewelry, from cuff to necklace, is handmade by artist Marina Smith and includes the exposed inner gears and ornate scripts of vintage clocks. Many of the pressed pieces used are still stamped from the original molds.
To find your own piece of handmade history to wear, visit Bedazzled and check out the gorgeous selection of pieces by Vintage Chic by L Carr Designs and Arcane Angel.
———
Can't get enough of the beautiful things at Bedazzled? Don't miss their Bejewel trunk show on May 12th and a chance to win a "sticks and stones" cuff or earrings in sterling silver and bronze!